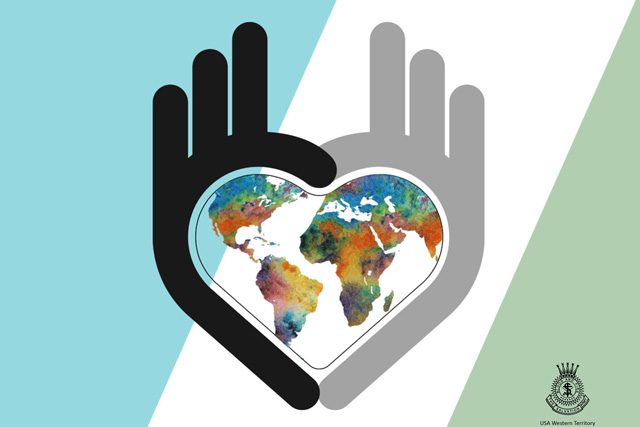 West's new Partners in Mission inspire connection
International partnerships encourage support and fellowship across The Salvation Army.
By Kristin Marguerite Doidge –
The Western Territory has new Partners in Mission, whereby International Headquarters connects territories across the international Salvation Army for both fellowship and support.
"The Partners in Mission Program ultimately assists us in broadening our horizons and increasing our capacity to make us more aware of the vast and culturally diverse Army in which we serve, as well as opening doors for continual relationship building," said Commissioner John Wainwright, International Secretary for Business Administration.
Each of the West's various commands received new partnerships as of January 2018.
"It's a natural part of who we are, and what we believe in as the mission of the Army," said Major Jennifer Wild, Del Oro divisional leader. "We just see it as part of the ministry of what we do every day."
In this round of multi-year partnerships, some divisions are grouped together in their partnership to help create a greater impact.  
The Del Oro, Hawaiian and Pacific Islands, and Intermountain divisions are all now partnered with the Philippines. "We usually try to target a specific need, but since we'll be working with another division, we're looking to raise something more substantial, and hoping to do a bigger project," Wild said.
That project is still to be determined, Wild said, but prayer and fundraising efforts come first. In past years, the West has shared resources with its Partners in Mission for everything from books to musical instruments, new school uniforms and hospital supplies.
Of course, it's not just about financial support, said Rachel Thieme-Ramirez, World Missions and Overseas Child Sponsorship Coordinator for the Western Territory.  
"We want to encourage ways to get connected, and encourage the corps to think about what they can receive from each other," Thieme-Ramirez said. "Learn about their culture. Learn a simple worship song in their language. Get children and families involved."
She suggested corps start a pen pal writing program with youth, or that they ask for a devotional or testimony from a partner territory Salvationist to share on Sunday morning.
Connecting with other cultures through the gospel is exactly what Major Mark Gilden, Cascade Divisional Secretary, has tried to do in overseas service from Jamaica to Belize. Now his division is newly partnered with Brazil, and Gilden has already reached out to officers to learn more about the specific needs of their communities.  
"One of the easiest things we have to do—rather than sit here and write our check—is learn about the needs and get buy-in from our congregation," Gilden said.
He suggested corps include a "missions minute" in the Sunday service. "It's a way of saying 'here's a cool project happening in the world you may not know about,'" he said.
Once corps members are invested, Gilden encourages "self-denial"—to forgo a latte or other daily indulgence and save that money for helping others.  
Most of all, the partnerships highlight The Salvation Army's unique position for tailor-made outreach to the community it serves—in any corner of the world.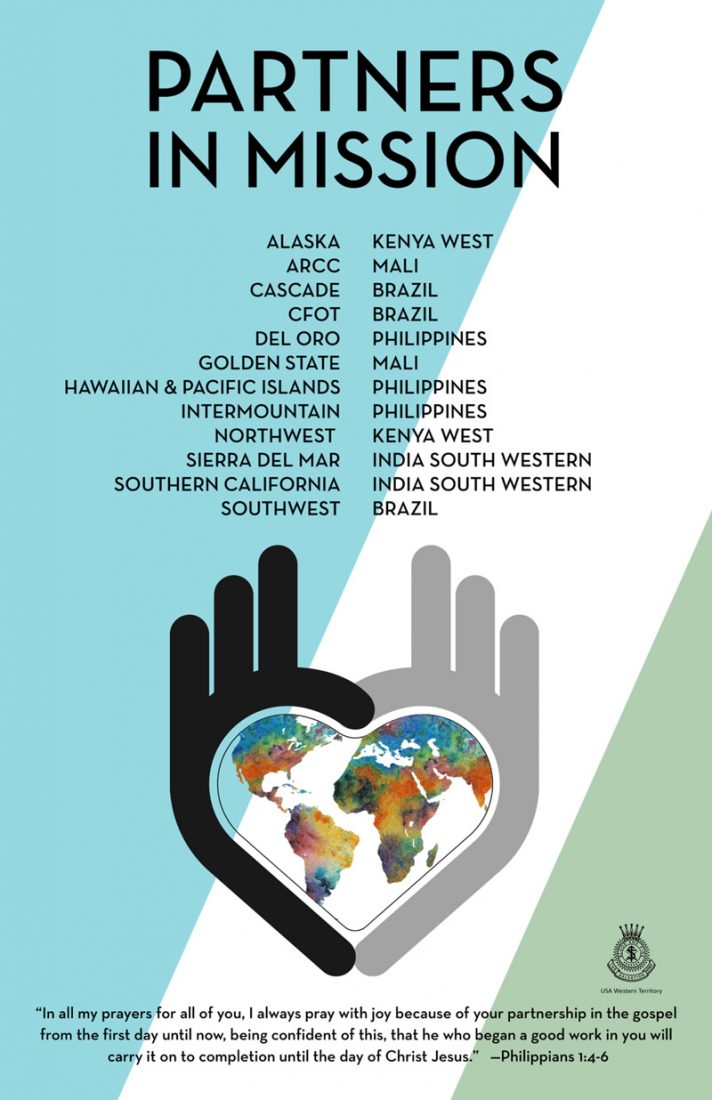 ---
Connection suggestions
Research and learn
Assign a corps member to take the lead on researching your Partners in Mission (PIM) country. Find out about the culture, history, and the scope of The Salvation Army's ministry there. Have a special Sunday that highlights the country.
Learn a simple worship song in your PIM's native tongue.
Find out how they conduct a Sunday morning service and do the same.
Create a PIM bulletin board at your corps with photos and details about the partner territory.
Work with your divisional headquarters to connect with your PIM and receive updates from them.
Get the kids involved
Have children's ministries become pen-pals with children from a program in your PIM.
Encourage children to brainstorm and implement fundraising schemes such as a bake sale or art sale.
Discover the needs
Consider supporting a special project in your PIM (construction projects, playgrounds, etc.).
Sponsor a program in your PIM territory through Child Sponsorship.
Learn the prayer requests of your PIM and pray for them.
Receive from your PIM
Share your corps prayer needs with your PIM and ask for their prayer.
Request a devotional or testimony from a Salvationist in your PIM that you can share on a Sunday morning.
Ask for programming ideas that you can use in your children's, women's, and men's ministries.