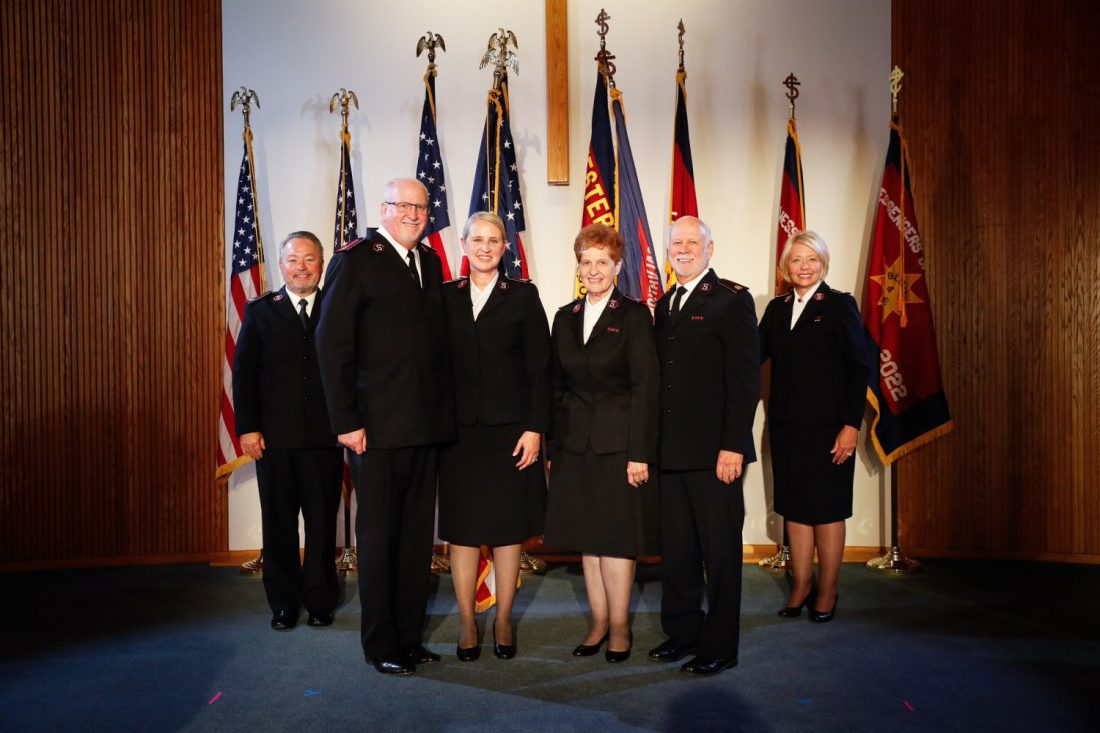 Western Territory welcomes Messengers of Reconciliation in online event
Video greetings from Salvationists across the Western Territory kicked off the first-ever virtual Welcome of Cadets event Sept. 12 to officially welcome the Messengers of Reconciliation Session. The virtual event broadcast from the College for Officer Training at Crestmont in Rancho Palos Verdes, California, also featured a retirement ceremony for former national leaders Commissioners David and Sharron Hudson and the installation of territorial leaders Commissioners Douglas and Colleen Riley.  
"Today, while we sadly cannot meet in person, we know that God is still present with us here at Crestmont, as well as in your homes, or wherever you are watching this service. We know that these are challenging times for us all, but we have confidence in our never-failing God who has sustained and provided for us in the past and will do so today and for the future days to come," said Chief Secretary Colonel Kelly Igleheart in welcoming attendees to the online event. "This gathering today is about celebrating what God has done through his servants, and how we have hope for the future, and how we can together be agents of reconciliation in a world desperate for unity."
Each of the 13 cadets shared a brief word of testimony as they were introduced to the territory before Colonel Donna Igleheart, Secretary for Women's Ministries, prayed over the cadets and thanked the territory for its work throughout the coronavirus pandemic.
"Even before we arrived here we could see the impact that you were having on hurting communities. We thank you for your commitment to reaching the lost, and serving those in need," she said. "I'm grateful to those who, even through these difficult and demanding times, have intentionally been the hands and feet of Christ for our neighbors."
A video reflection featured the territory's service to people this year, including distributing 5.3 million meals, beverages and snacks, more than 525,000 nights of lodging and more than 323,000 emotional and spiritual care contacts since March 16.
"I felt that to be an officer meant great sacrifice, strength, discipline, dedication, endurance and boldness. None, which I felt were displayed in my past and all which seemed hard to grasp," said Cadet Sarah Culley in her testimony. "Each one of us here before you today have had God reconcile us to himself. It is woven into our story and has changed our lives. He has called this session to bear this message to all who hear that God is able to reconcile you with forgiveness, love and hope."  
Read more in "My calling to officership"
Territorial Commander Commissioner Douglas Riley thanked the Hudsons, who retire now after 45 years of service in The Salvation Army. Del Oro Divisional Commander Major Ivan Wild presented the certificate of retirement.
"It is all about grace," David Hudson said. "It's about the grace of God who unconditionally loved us and accepted us as we are, and we are grateful." 
Read more in "Hudsons receive retirement certificates"
Donna Igleheart then introduced a special interview of the Rileys, conducted by Junior Soldier Spencer Cox. The 11 year old asked a range of questions, from how the Rileys will address special needs, to whether or not camps will reopen, what they like to do for fun and if they've ever dented a Salvation Army vehicle.
Following a vocal solo, "Ever True," by Junior Soldier Charlotte Woods, the Hudsons officially installed the Rileys as Western territorial leaders.
Read more in "Rileys installed as Western territorial leaders"
"We know that there is great responsibility in taking on the mantle of leadership. And I promise you that we will remember that it is God who is leading and guiding and that we will open our hearts and listen to his direction for our own lives and for the decisions that will be made as we go forward," Colleen Riley said in response. "Over this past year or so I have felt God tell me to have faith and to persevere, to pray for and believe in a revival in our Army! His desire is for us to have an Army, a Church, that is Holy-Spirit filled­—a church that is sharing the gospel of Jesus Christ, discipling our people, young and old and fully on fire for Christ. Let's pray together and work toward a reawakening, a renewal of the life of our Church.
"Each day will come with its challenges, and with its joys. I am choosing to focus on each day's joy—and that includes each of you," Riley said. "As we walk this journey together, let's keep looking toward Jesus, keep focusing on the good, not with rose-colored glasses, but with eyes wide open to see all the possibilities that lay before us." 
Read more in "A vision for revival"
She read 2 Corinthians 5:16-18 before Douglas Riley gave the sermon on what it means to be reconciled.
"I can think of no better name or time in our history that witnesses so clearly to the need for reconciliation. No doubt that the events of these past seven months cause each of us to experience worry, anxiety, concerns about safety and adequate provision," Riley said. "COVID-19, racism, unemployment, riots, politics will take their place among history, particularly where man has sought out reconciliation and freedom in the most desperate ways. We need restoration and healing more than ever."
He shared the story of a mixed-race woman named Joanna who fought to change apartheid in South Africa. Each day, she visited a prison known for violence, bringing a message of reconciliation. The year before she began her visits, the prison had recorded 279 acts of violence. The next year, it had just two.
When a journalist pressed her for specifics on what had happened to transform the prison, she said, "Well, of course, God was already present in the prison. I just had to make him visible." 
"Messengers and all who are listening, we must make God visible," Riley said. "Reconciliation is what we need, what we cry for. Let us build a foundation of reconciliation first with God our maker, the creator."
Noting 2 Corinthians 5:18, Riley said Paul was not far off from the events of our day—with issues from race, to economic challenges and social status. And so he made two points in this passage: God's act of reconciling the world through Christ and the ministry of reconciliation entrusted to Christ's ambassadors.
"Jesus led with his message of loving God and loving one another. We must too," Riley said. "If we look at some of the biblical parables, you will see Jesus criticize those who did nothing. Let us not be people who do nothing."
To leave where we were and get to him is what we call reconciliation, he said.
"​When we come to this realization of what God has done for us, this peace, this grace, this hope, then we need to share that with the world for it's his ministry that we now share together," Riley said. "Let us not be afraid, let us not fear, this is not our battle, it is the Lord's. We have his favor; we follow his command and we will not let up. Our gate is steady, and our banners should be unfurled, and we are ready to be used by God to do his mighty and miraculous work. You see, I have said and will continue to say, we serve a big God and he wants to do things beyond our imagination. Let us settle for nothing less."
In closing, the Messengers of Reconciliation sang their session song, "The Reconciliation Song."
The Messengers of Reconciliation:
Cadet Monique Garcia from the Ventura (California) Corps
Cadet Jose Gonzalez from the Compton (California) Corps
Cadet Ismael Gutierrez from Santa Ana (California) Temple Corps
Cadet Verenice Gutierrez from the Santa Ana (California) Temple Corps
Cadet Shane Ingram from the Riverside (California) Corps
Cadet Cody Trimmer from the Cathedral City (California) Corps
Cadet Katharine Wohlman from the Pasadena (California) Tabernacle Corps
Cadet Makda Workneh from the Santa Monica (California) Corps
Cadet Vonne Hoogstad from the Stockton (California) Corps
Cadet Christopher Rodriguera from the Auburn (California) Corps
Cadet David Cully from Santa Clara (California) Citadel Corps
Cadet Sarah Cully from the Santa Clara Citadel (California) Corps
Cadet Sharon Reimers from the Mesa (Arizona) Citadel Corps