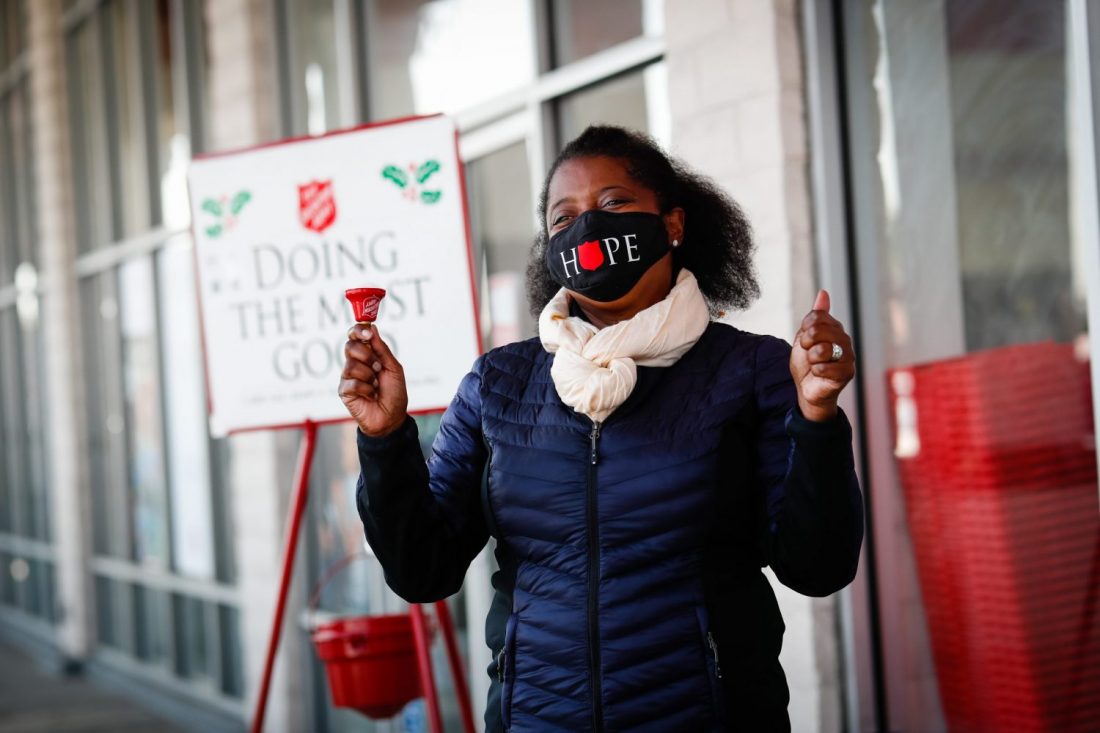 West turns to data for planning kettle locations
By Hillary Jackson–
It's no secret COVID-19 has altered our shopping habits. How often do we opt for delivery instead of going to the store? Or if we go to the store, select curbside service to avoid going inside? These changes in routine impact foot traffic, a key factor in determining a good location for The Salvation Army's kettles at Christmastime. 
In addition to many considerations The Salvation Army is making for kettles this Christmas season, it is also turning to big data to examine factors like foot traffic patterns for kettle placement. 
"With this year's unique situation brought on by COVID-19, we need to leverage everything we can to help our kettle effort," said Director of Applications David Brown, who is managing the rollout of Kettle Web. "Big data represents one new resource that will allow us to be even more strategic as to the who, what, when and where decisions related to kettles." 
The data, based on opt-in mobile phone technology, comes from the Army's participation in data company SafeGraph's COVID-19 Consortium. Director of Software Development Karl Larsson discovered SafeGraph when he was searching for alternatives to Google's "popular times" feature for kettle locations, since Google doesn't give that data to third parties. SafeGraph offers a similar service that he decided to try out.  
"It's an expensive service, but they do offer free 'location matching' where they'll take your address list and match it to the locations they offer foot traffic data for, so I extracted all the kettle locations for one corps, mapped them to SafeGraph locations and then purchased one week's data just to see the potential," Larsson said. "It was quickly obvious that it was potentially even more useful than Google Popular Times, allowing us to see week-by-week trends as people, hopefully, return to stores."
The downside? The price. Larsson saw SafeGraph was offering all of its data to scientists and nonprofits for the duration of the pandemic, so he reached out. After a brief meeting, during which he explained how he'd be using the data, the company added him to the consortium, where he entered, what he called, "a whole new world of data science." Fortunately, those involved in the consortium had a spirit of helping each other, which helped the learning curve. 
Similar to the Nielsen ratings for television, SafeGraph monitors a subset of people via their cell phones. To arrive at the foot traffic metric, you then have to extrapolate those figures using Census data—among other things, Larsson said. These numbers build off of the I.T. Department's new web-based version of the kettle software it deployed last year to a number of divisions. As a part of that, the department built reports with Power BI—a reporting tool from Microsoft that visually displays data and updates quickly to reflect changes. 
"It's very powerful and solves one of the key problems with big data: allowing users to identify key information easily and quickly," Larsson said. "The Foot Traffic reports are a new addition to kettle's Power BI reports this year, and given that the consortium is only running until March 2021, they may be unique to this most unusual of years." 
Reports for 2019 and 2020 can be accessed on the territorial intranet's Christmas Resources tab. Foot traffic data is available for kettle locations with addresses, which Larsson estimates leaves out about 25 percent of kettle locations. Still, the information allows locations to be ranked based upon kettle income and foot traffic to try to predict which locations provide the most bang for your buck. 
"The basic problem we are trying to solve is whether you should place your kettle at a busy location where people give less, or a quieter location where people give more," he said. "Ideally you'd find a busy location with generous people, but that's not always possible."
Foot traffic data is another tool to aid in rescuing Christmas this year, but Larsson urged corps officers to rely on their instincts, too. As the territory turns to data, it will take time to refine its use.
"Like onboarding any new technology asset, as we use big data, we will get better at exactly how best to use it to our advantage over time," Brown said. "We look forward to the increased benefits this approach can bring not only this year, but in years to come."