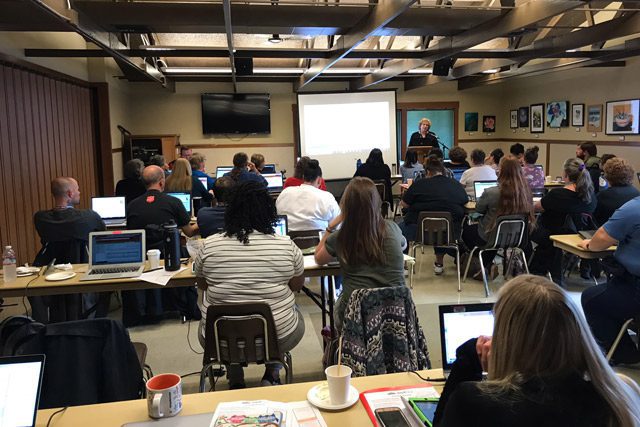 West sees renewed focus on Pathway of Hope
Approach measures the effects of corps initiatives on breaking the cycle of poverty. 
By Caitlin Johnston –
The Salvation Army has provided hope, help and resources to communities for more than 150 years—and in this time, it has collected countless personal stories of how its programs have helped families and individuals develop life skills, find stability and experience transformational change.
But The Salvation Army has not always been good about tracking its outcomes and backing up those stories with data, said Dale Wanty, Director of Social Services in the Intermountain Division. Leaders are hoping the national roll-out of the Pathway of Hope initiative, and its revival in the Western Territory, can help change that.
"It's one thing to talk about [outcomes and impacts], it's another thing to document it," Wanty said. "I think this will be a game changer, as it has been in the other territories." 
At its core, Pathway of Hope is designed to help families break the cycle of poverty. It's an ambitious goal, and one whose success can't be determined for decades. But it's also the heart of what The Salvation Army does best: helping individuals achieve long-term, quality changes.
Pathway of Hope is not just a program: it's a holistic, strengths-based case management approach that can be incorporated into myriad programs of The Salvation Army. The assessment tools used in the case planning process help measure the effects of local efforts and the impacts they are having on individuals and communities.
For example, the Herth Hope Index is used to measure program participant's hope level before, during and after receiving assistance from The Salvation Army. Individuals are asked to read a number of statements and decide the extent to which they apply to their lives: I am looking forward to the future; I sense the presence of loved ones; I have deep inner strength; I have plans for the future.
"A major piece of Pathway of Hope is increasing our capacity to report on outcomes and to quantitatively demonstrate how The Salvation Army is transforming the lives of individuals," said Chris Doughty, Territorial Social Services Research Specialist and Territorial Pathway of Hope Director. "If they're more hopeful, if they've increased their stability, if they've increased their income."
Other parts of the country, such as the Central Territory, have been using Pathway of Hope tools in their programming for years. The Western Territory is hoping to benefit from the experience of other territories, picking up tips and tricks for what works best and adjusting approaches.
"We already have reports from other territories that show those clients who engage in the spiritual care offered through the Army end up being more hopeful and more successful overall," Doughty said. "Other territories had to build their software systems from scratch. We basically copied and pasted it and are making tweaks."
The Western Territory first tried to roll out Pathway of Hope in 2013, but without dedicated funding, those efforts had mostly petered out by 2015, Doughty said. 
"The territories were all asked to self-fund it, and that made the West much less inclined to maintain Pathway of Hope," Doughty said. "We hadn't invested much into it. We never hired divisional support staff or adopted the same software platform that the other territories did, which is kind of required to do it properly." 
A national grant helped change that in 2018, and many divisions are now embracing the approach with renewed vigor as territorial and divisional trainings have resumed. 
Onesa Anozie, Pathway of Hope Project Manager in the Western Territory, said she has seen a lot of excitement and anticipation from different divisions as the training is rolled out. 
"People can't wait for us to come out and do trainings and get this going," Anozie said.
The first training took place in July for divisional administrators from four divisions, Anozie said. That training included a visit from the Pathway of Hope Director in the South who could speak to real world implementation and the benefits they've seen from using the case management tools and software. 
More than 100 people attended the first "ground-level" training of the relaunch, which was held at the Northwest Division's Social Services Conference in mid-September. Another 100 people have since been trained at conferences in the Alaska and Intermountain divisions with additional trainings beginning in January 2020.   
Anozie and others work to first get buy-in and support from divisional leaders before then holding on-site training with field staff and direct service workers.
"As The Salvation Army, we do a lot of good, but our hope is that we'll be able to tell our story much more accurately with these tools," Anozie said. "And to get outside support when we can tell a story that is much more consistent across the territory." 
Many donors are receptive to the idea of funding programs that result in long-term, quality changes for those involved, Wanty said. They're not as interested in paying for a certain number of meals or nights in a shelter as they are looking to see transformational change.
"I think this will all lead to greater funding," Wanty said. "Our funders are more educated than ever before and they are asking the right questions, but they are more difficult. We have to document or prove as much as we can."