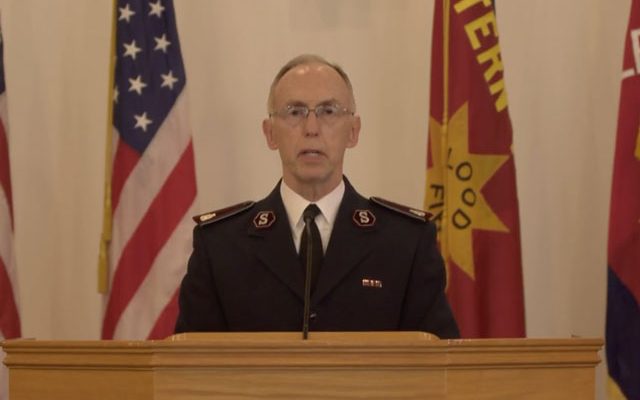 West holds 'Prayers for Peace' amid nation-wide racial turmoil
In light of the racial turmoil gripping the U.S. following several incidents, including the death of George Floyd in Minneapolis, Western Territorial Commander Commissioner Kenneth G. Hodder called The Salvation Army—and the nation—to pray.  
"The events of the last few days in Minneapolis, Minnesota, have shocked us all," Hodder said. "The brutality that we have witnessed is not only inconsistent with the values and aspirations that we hold as Americans, but they are inconsistent with the Gospel of Jesus Christ that we as Salvationists proclaim, so it seems appropriate this morning that we should gather as a people of God, and to pray for peace."
In response, the West held "Prayers for Peace" May 29. The 20 minutes of live-streamed prayer featured Salvation Army officers offering prayers from throughout the western U.S. A replay video of the prayer time can be found on the New Frontier Chronicle Facebook page. Salvationists and friends from throughout the U.S.—and the world—joined in, adding prayers to the comment section. 
Following Hodder's opening remarks and Scripture reading that referenced 1 Thessalonians 5:15 and John 14:27, Territorial Secretary for Spiritual Life Development Colonel Colleen Riley opened with a word of prayer. 
"God, we don't understand the things of this world—why these things happen," Riley prayed. "But, God, I pray for each of us—that you would ignite our hearts, our minds and our lives…so that we could help to bring a peace to this world that is needed."
Phoenix Kroc Center Corps Officer Captain Dustin Rowe prayed next for the Army to be obedient to God's calling during this time. 
"We act in accordance with what you're calling us to do, and how to be," Rowe prayed. "If it is a ripple in water that you are calling us to, God, that we are obedient and that that ripple forms into a tsunami…that you are magnifying that effort, that you are impacting the world, that you are bringing justice and change, God." 
Hawaiian and Pacific Islands Divisional President of Women's Ministries Major Eloisa Martin thanked the Lord for his creation—of the world, and of creating humanity in his own image.
"We come to you with heaviness in our hearts this morning, for what is going on in our own communities, in our country and world," Martin prayed. "We ask, Father, that your Holy Spirit would come down and bring comfort to the family of George Floyd as they grieve for him. May they know the peace that passes all understanding. The peace that comes from you Jesus, the Prince of Peace."
The prayer meeting then transitioned to a prayerful singing of "I Need Thee" by Territorial Secretary for Program Lt. Colonel Lisa Smith. 
Following the song, Golden State Divisional Youth Secretary Captain David Kim prayed, "Lord, we come to seek your complete peace and hope that can only come from you…hear our cry, and hear our prayer." California South Divisional Youth Secretary Captain Juan Pardo-Barriga prayed as well, first in Spanish and then in English.    
"God, I pray that you remind us to come back to our first love," Pardo-Barriga prayed. "That you remind us why we really are here in this world. That you remind us that there is a purpose, and that it's not to go out and create violence…God help us to show compassion. Teach us to show your love."
California South Divisional Women's Secretary Major Lynn Stewart prayed for wisdom and guidance, including words from Dr. Martin Luther King, Jr. in her prayer:
"O God, the Creator and Preserver of all mankind; in whom to dwell is to find peace and security; toward whom to turn is to find life and life eternal, we humbly beseech Thee for all sorts and conditions of men; that thou wouldst be pleased to make thy ways known unto them, Thy saving health unto all nations. We also pray for Thy holy Church universal; that it may be so guided and governed by Thy Spirit, that all who profess and call themselves Christians may be led into the way of truth, and hold the faith in unity of spirit, in the bond of peace, and in righteousness of life. Finally, we commend to Thy Fatherly goodness all those who are in any way afflicted or distressed in mind or body. Give them patience under the suffering and power of endurance."
Territorial President of Women's Ministries Commissioner Jolene K. Hodder prayed for forgiveness as individuals, institutions and for the Holy Spirit's help to pour love and compassion on others.
"Today, Lord, we come to you humbly. We come to you seeking. We come to you believing, God, that you love everyone," she prayed. "We come to you believing, God, that our church—the church—can make a difference in our communities and in our world."
Kenneth G. Hodder closed the prayer time with a call for Salvationists to pray for the loved ones of George Floyd and for the Harbor Light Center in Minneapolis, where Floyd once worked as a security guard. 
"Let us pray that God will continue to move in the hearts of men and women. He has transformed us. He can transform this situation," Hodder said, before closing the service with the Lord's Prayer.