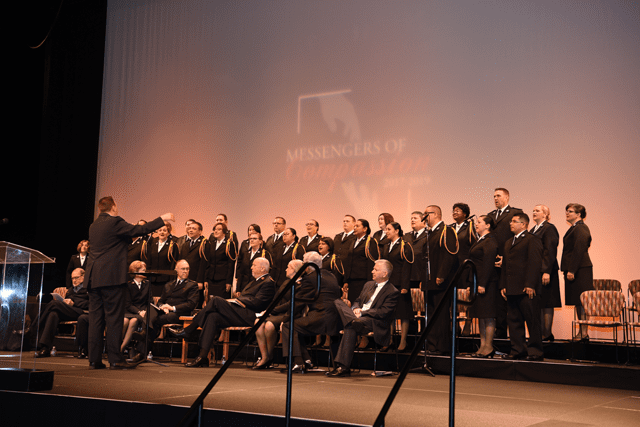 Commissioning: West graduates Messengers of Compassion
Following two years of academic study at the College for Officer Training (CFOT) at Crestmont, Salvationists and friends gathered with territorial leaders Commissioners Kenneth G. and Jolene K. Hodder at the Cerritos (California) Center for the Performing Arts June 8 to witness the commencement of the 19 cadets of the Messengers of Compassion Session.
Shoulders draped in yellow and red, the cadet chorus sang its song, "Nothing to Offer but Christ" by Len Ballantine, before a prayer by Captain Clinton Trimmer, CFOT Curriculum Officer. Major Brian Saunders, CFOT Training Principal, welcomed those in attendance and invited them to sing, "Come Let us All Unite to Sing."
Territorial Commander Commissioner Kenneth G. Hodder recognized the outgoing Chair of the Crestmont Council, William Flinn, O.F., who retires from the position after eight years.
"Bill has brought a passion for the ministry of The Salvation Army," Hodder said. "Under his leadership the council has made tremendous strides in its policies and its procedures, and its contributions to the College has correspondingly grown and blossomed."
Flinn accepted a plaque for his service, and Chief Secretary Colonel Douglas Riley introduced the new chairman of the Crestmont Council, Dr. Stephen Gray, who then delivered the Scripture reading from Hebrews 12:1-2: Therefore, since we are surrounded by such a great cloud of witnesses, let us throw off everything that hinders and the sin that so easily entangles. And let us run with perseverance the race marked out for us, fixing our eyes on Jesus, the pioneer and perfecter of faith.
Hodder presented academic degrees and certificates to the cadets, including Cadet Omoduni George-Kawaley, who spoke on behalf of her session.
"Messengers of Compassion, God has entrusted to us a message of hope for our hurting world," she said. "He has called us to minister his healing love to the broken, the oppressed and the abused—they need to hear the message of compassion. But we are also called to speak against injustice and unfairness, and to stand against the oppressors and the abusers. There will be moments when we will need to speak the hard truth, but we must do so with compassion, offering God's mercy. The tools we have received are only valuable when we apply them."
Flinn opened his commencement address with a few simple words: "Bloom where you're planted."
"Blooming does not always happen where it is beautiful and peaceful, where the sun is always shining," he said. "Blooming is often more important in the weeds that are growing high, in difficult situations that seem to be surrounded by obstacles that are blocking out any sunlight and where it appears nothing could grow at all. At times, blooming may be a very solitary happening for you, and you may feel alone. You have a hard job ahead of you, cadets, and you have some big shoes to fill as you look to those who've gone on before you."
He noted that the key to blooming where you are is keeping your connection with the Lord despite the many circumstances and responsibilities and sometimes failures that will come your way, as illustrated in John 15:5: "I am the vine, you are the branches. He who abides in Me, and I in him, bears much fruit; for without Me you can do nothing."
"The ministry that will come your way can take a toll on you, emotionally, spiritually and physically, if you don't take care of yourself," Flinn said. "Stay in shape and keep healthy. Perseverance is essential for successful living. It allows us to constantly pursue a goal, and unwaveringly live out our beliefs, regardless of those obstacles of difficulties that come our way."
After reading from 1 Corinthians 9: 24-27, in which the apostle Paul likens the pursuit of the Christian life to a foot race, Flinn shared four points on the importance of persevering in the race to attain spiritual victory.
One: only the foolish would attempt to run a race without training.
Two: don't rely on your own strength. Establish a sustainable pace with the Lord as your coach.
Three: watch out. Don't hit the wall during the race. There will be bumps, both personally and for the ministry. Quitting will, and can be, a strong temptation. Stay the course.
Four: God rewards those who persevere to the end. Finish strong.
In closing, Commissioner Jolene K. Hodder led the congregation in singing "Joyful, Joyful" before Major Brian Jones, CFOT Director of Curriculum, offered the closing benediction.