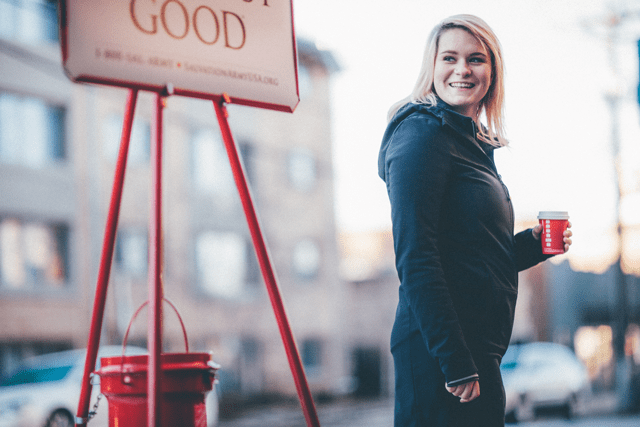 West challenged to kettle volunteer increase
Corps and units aim to recruit volunteers for an additional 40,000 hours this season.
By Christin Thieme –
The second half of the year means one thing in The Salvation Army: Christmas is coming.
This season, corps across the Western Territory are challenged to increase the number of volunteer hours at the kettles by 25 percent, an additional 39,839 hours from the 159,356 served in 2016.   
"The kettle is one of the best opportunities we have to engage with our communities. The kettle increases our opportunity to share Christ, to proclaim the mission that we have—it is a gift from God," said Territorial Commander Commissioner Kenneth G. Hodder. "Think of the privilege it is to have that connection with the American public—that people would come up and in response to a smile and a 'Merry Christmas' be willing to give a little of themselves to The Salvation Army."
It's been a tradition since 1891 when Captain Joseph McFee staged an iron kettle at a San Francisco ferry landing to raise funds for a Christmas dinner for those in need. In 2016, The Salvation Army Red Kettle Campaign raised $147.3 million across the U.S., money that stays in the community where it was given to provide food, shelter and social services to more than 25 million Americans annually.
The West raised $26.5 million last year, 0.1 percent lower than in 2015 despite the season being two days longer. And while 20,000 fewer kettles were placed in 2016 than in 2012, more were manned by volunteers (23 percent versus 19 percent).
Notably, volunteer bell ringers are more productive than paid workers at generating income at the kettles. Data from 2016 shows that volunteer kettle workers netted nearly three times as much income ($56 per hour) as paid workers ($20 per hour). Additionally, costs in hourly wages for paid kettle workers are steadily increasing—up 6.3 percent from 2015.
"I know volunteers are there; they just need to be asked," Hodder said. "I think this 25 percent volunteer challenge can be done simply by putting out the call to people who already know us."
The Intermountain Division, which had the highest number of volunteer hours at the kettle in 2016 is again working diligently with the likes of corporations, veterans and other military groups to sign up volunteers for this season.
"We really believe that Christmas must be a year-round development campaign," said Lt. Colonel Dan Starrett, Divisional Commander. Recruiting focuses on service clubs and organizations—from the Lions to Kiwanis and Rotary—starting in mid-summer, and this year the division plans to introduce bell ringing days specific to CEOs and realtors.
Developed in the Southwest Division, Real Estate Wednesdays—a campaign to involve the real estate industry in volunteering to ring the bell—raised nearly $200,000 there through 2,200 real estate volunteers over four Wednesdays in 2016.
The program is also a key focus this year in the Northwest Division, according to Director of Corporate Engagement Lisa Borders.
"It is spectacular and dynamic; the whole way that it's formatted, it can be used for any other category—union workers, medical professionals, finance day—call it whatever," Borders said. She's worked to set up a program in Seattle and is recruiting real estate companies to participate. "You have to make friends, get with people and get them excited to work with The Salvation Army."
Beyond these campaigns, some corps have taken volunteerism to the next level. Of the 252 corps and outposts that reported kettle income in 2016, 23 executed their kettle campaigns exclusively with volunteers.
In Salinas, California, Program Manager Karen Ostby has run the corps' kettle campaign using only volunteers for more than 15 years, targeting groups from churches to a Harley club to volunteer.
"I had to ride on the back of a motorcycle to get the Harley group to sign up. It was terrifying, but I did it," Ostby said. "With volunteers, you have people who want to be at the kettle and who give a much nicer appeal to the public because they are excited about being there."
And then there are the regulars, like Ross Brown, a soldier at the corps who volunteered as a bell ringer almost every day in 2016—sometimes taking double shifts.
"You only have a limited time, so you have to make use of it," Brown said of the kettle season, which typically runs from Thanksgiving to Christmas Eve. A retired truck driver, Brown also volunteers each weekday as a corps bus driver, picking up kids from the local schools and driving them to the corps' after-school program. "The kettles are important because it's income for the corps, so I feel like I better get out there and help because they need it. I'll do it as much as I can."
The Bullhead City (California) Corps also uses only volunteers to ring the bell and hosts a thank you party at the end of the season, raffling off prizes—including, on a few occasions, a donated car. 
"We have a lot of the same people who now just love ringing the bell," said Jill Rios, longtime kettle coordinator in Bullhead City. "They start calling in September and want to fill out the application to volunteer again."
Rios said she works to make volunteering fun, delivering hot chocolate to the kettles, for example. Of the corps' roughly 25 individual volunteers, Rios said half of them volunteer 40 hours a week during the season.
"Our volunteers really get involved—one sings and dances, another dresses as Santa—and if the normal people aren't at their kettles, people will ask about them," she said.    
Which evidences a key motive of the challenge this year.
"There are a lot of practical reasons for this challenge, from the rise in minimum wage to the trials of scheduling, but for me, all of that is secondary to the fact that the kettle is one of the best opportunities we have," Hodder said. "It allows us to say, 'This is what The Salvation Army is, what The Salvation Army stands for and what The Salvation Army does.'"