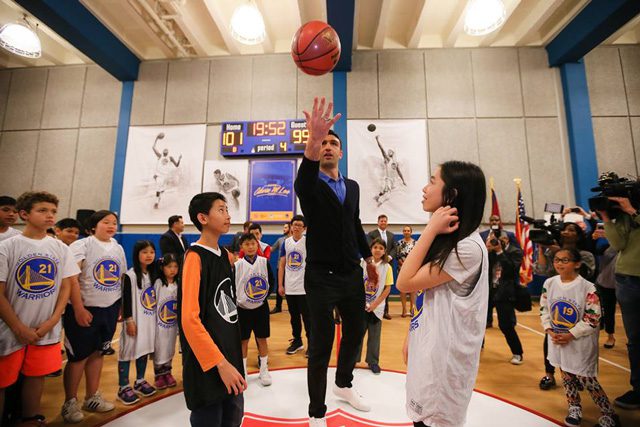 Warriors help dedicate Salvation Army Chinatown court
Refurbished court honors late San Francisco mayor
By Hillary Jackson –
While the Golden State Warriors have reached the ultimate goal in professional basketball, crowned NBA Champions in 2017, Center Zaza Pachulia recognized the importance of starting small at the March 30 dedication for The Salvation Army Chinatown Corps Community Center's Edwin M. Lee basketball court in San Francisco.

"Stars are born on these kinds of courts," Pachulia said.

The Warriors joined Pacific Gas and Electric Company (PG&E), Good Tidings Foundation and The Salvation Army to remodel the gymnasium in honor of Edwin Lee, the former mayor of San Francisco, who passed away unexpectedly in December 2017.

Lee, a lifelong supporter of The Salvation Army, was married at the Chinatown Corps Community Center in 1980. He and his wife, Anita, regularly served the community during Thanksgiving and Chinese New Year meals. Lee annually took part in the turkey carving event at the Harbor Light Center alongside police and fire department leaders.

As a part of the renovation, the Chinatown Corps Community Center's gymnasium and indoor basketball court received new backboards, a scoreboard, fresh paint, updated seating and lighting.   
The efforts were made as a part of the Makin' Hoops program, a partnership between the Golden State Warriors and the Good Tidings Foundation that has restored more than 70 basketball courts in the Bay Area.

"Working together with the Warriors, PG&E, and the Good Tidings Foundation exemplifies how the Warriors goal of 'Strength in Numbers' can help The Salvation Army to continue to make a positive difference in the community," said Lt. Colonel Cindy Foley, Golden State Divisional Director of Women's Ministries.

The dedication event included a basketball clinic conducted by Warriors coaching staff and Pachulia that taught the kids how to dribble and shoot. The players also gave children participants Warriors t-shirts, basketballs and books from the NBA Read to Achieve program.