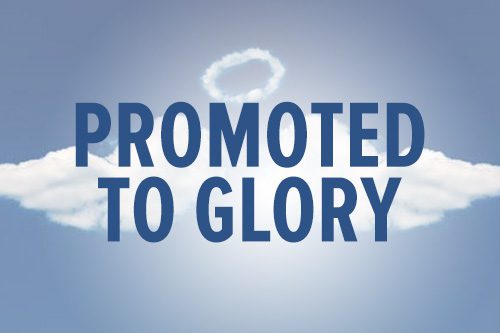 Warren Johnson
By Kevin White – 
Salvationists, friends and family filled the Tustin Ranch Corps sanctuary to capacity Sept. 2, gathering to pay tribute and celebrate the life of Warren C. Johnson (OF) who was promoted to Glory Aug. 23.
Born in Sault Ste. Marie, Mich., to Salvation Army officer parents, Warren and Tena Johnson, Warren lived in Michigan until his parents were transferred to the Western Territory in 1953. His first job was with The Salvation Army Red Shield Youth Center in Los Angeles, but eventually he found himself working for 12 years as a senior operating officer for the Union Pacific Railroad (a job that launched his life-long love of anything to do with trains), which took him to Omaha, Neb., and back to Los Angeles. But his heart for people and ministry called him to The Salvation Army, and he worked nearly 33 years as the business administrator for The Salvation Army in Orange County, retiring in 2008.
His work and love for the Army was not limited to his employment. His care for people spilled over into his positions as Sunday school teacher, corps sergeant major, recruiting sergeant and band executive officer at the Santa Ana and Tustin Ranch Corps. Johnson also served for 21 years on the staff of the National Seminar on Evangelism and was recently asked to be an online spiritual counselor with SAVN.tv.
In 2012, Johnson was admitted to the Order of the Founder, the Army's highest honor given to Salvationists for "outstanding and exemplary service above and beyond the call of duty, demonstrating commitment to evangelism and spiritual formation at corps, territory, and worldwide levels." In a written letter, General André Cox shared: "It was not for earthly recognition that Warren lived so diligently; it was because of his love for the Lord and his compassion for people."
Johnson's impact on others was also evident through beyond his roles in The Salvation Army, serving 13 years as a police chaplain for the Santa Ana Police Department, and more recently, completing 18 years of service as a senior chaplain for the Orange County Fire Authority (OCFA). At the OCFA, Johnson led the planning team that developed the OCFA Chaplain's Program. He was a faithful 32-year member of the Rotary Club of Santa Ana, serving as club president from 1982-1983 and was named the Business Rotarian of the Year in 2006.
Indeed a "hero of the faith," Johnson's influence is alive in those that were touched by his presence. As Captain Stacy Cross, Tustin Ranch corps officer, said, "There are few people who fully exemplify Paul's statement in Philippians 1:21. Warren Johnson was one of the few who lived and breathed his faith. Warren's warm yet commanding presence made one feel immediately cared for and safe. His love as a husband and father is evident in his 51 years of marriage to Darlene and in their children Darren, Scott and Michele, their spouses and their eight grandchildren. His love for his brother, Robert and his family, is reflected in their lives as well. Each one carries a bit of Warren within them whether it is in their laughter, loving kindness or firm dedication to serving others."
We know that he is now worshiping at the feet of Jesus and communing with the saints. We can hear God speak over him the words, "well done my good and faithful servant, you have been faithful in a few things; I will put you in charge of many things, enter into the joy of your master!"