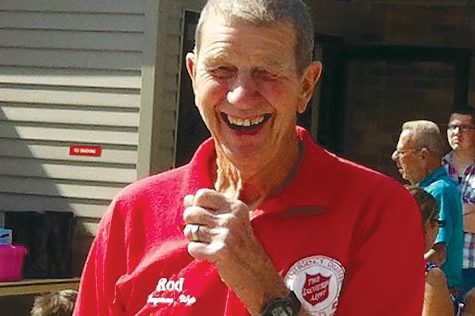 Rod Phillips leaves legacy of service
After 30 years of giving, volunteer of the year recipient promoted to Glory.
By Doug Hanson, Lieutenant –
Cheyenne, Wyo., doesn't get much rain, but in 1985 it broke records. The Buffalo Ridge floods that hit caused over six inches of rain in just 24 hours. Many died during the flood and many homes were destroyed.
That busy August, corps officers from the Cheyenne Corps called everyone they could to come help. One member of the corps, Arleen Phillips, called her husband, a longtime local gym coach, to come and serve with the Emergency Disaster Services (EDS) team.
This was Rod Phillips' start in ministry.
Phillips was put to work serving first responders and victims of the flood, nonstop for nearly a week.
He eventually became director of the EDS team, which was called upon by 911 dispatch at all hours of the night. It would arrive on scene with Phillips' truck loaded with tables and supplies. Firemen, police, state patrol and victims of disasters saw the team as a life saver coming to the worst situations.
Quickly though, the team saw a need for a full mobile kitchen, so they began to look for a canteen.
In the summer of 1990, Phillips found a used taco truck in Los Angeles, but couldn't get headquarters to commit to the down payment. Another buyer wanted the canteen, and Phillips wouldn't let it slip away—he and his wife issued the $5,000 down payment, no reimbursement needed.
Throughout the years, the Phillipses served in emergency disasters in Alaska, Montana, Washington, Colorado, California, South and North Dakota, Wyoming and Kansas. The Cheyenne team also served at various events—from every military deployment in Cheyenne to Special Olympic sports and fundraising events—36 events annually.
For all of Phillips' service over the past 30 years, the Cheyenne Corps and advisory board named him The Salvation Army Volunteer of the Year in 2015. The city's mayor, firemen, policemen, the state's emergency management director,  and civilian employees and soldiers from the Air National Guard and Air Force bases all attended the award ceremony.
This was not the first time that Phillips had been honored for his work—he has taken home The Salvation Army Others award and received enough awards from other emergency agencies in Cheyenne to fill four tables.
Just six days later, at 85, Phillips was unexpectedly promoted to Glory. Over 200 people, including an Air Force general and uniformed law enforcement personnel, attended his funeral.