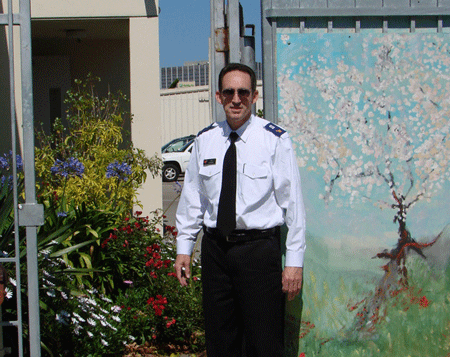 Vital light for veterans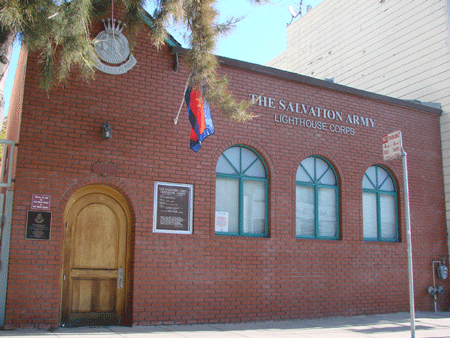 San Francisco's Harbor Light Center provides comprehensive approach to services 
By Laine J. Hendricks
All Chuck Hughes wanted was a retreat from the pain of his situation.
And though he had once served as a source of support to returning Vietnam solders, assisting with their humbling debriefs—recalling vivid, eyewitness accounts of warfare and murder—he wasn't prepared to deal with death in his own world.
Hughes met Katie in New York. He was a military veteran, having served four years in the United States Air Force. He had attended Rutgers University and was an aspiring copywriter for an advertising firm.
And, he was in love.
They married, and as Hughes' career progressed, they thought it would be sensible to move to Los Angeles in pursuit of greater opportunities. He continued to excel and soon using his talents to promote the movie industry; the success led to a great career, and a nice car and comfortable home. Chuck and Katie Hughes had a great life.
In 1993, Hughes' world was set into a tailspin. Katie had been diagnosed with a hereditary form of leukemia. She fought back, achieving remission a couple of times. However, her doctors determined in the fall of 1993 that she would not make it through her current hospitalization.
As the holidays approached, Chuck attended an annual holiday gathering at an executive's home. He walked into a room where many people were free-basing (smoking the non-salt form of a drug). Hughes, overwhelmed by his situation with Katie, decided to give it a try.
"That was the first day I could put my wife's death out of my mind," he said.
Hughes' drug use quickly spiraled out of control, taking on some ugly and unsavory proportions. One day, as Katie lay on her deathbed, she gave her husband a choice: It was the drugs or her. She couldn't stand seeing him in this state of disarray, and she wanted him by her side during her last few days on earth.
He sided with his addiction and walked away from his wife. Hughes was not there when she died and the guilt and shame of abandoning Katie on her deathbed sent him spiraling even further: 15 solid years of severe substance abuse. He lost everything, and later relocated to San Francisco, falling into the same drug routine.
"I had a bad habit of thinking I knew best as to what I needed and I didn't need anyone tell me otherwise," Hughes said.
This thought pattern lead him in-and-out of rehab. A return to the VA led him to The Salvation Army. He was somewhat resistant, but the Harbor Light Center staff talked Hughes into giving the program a chance.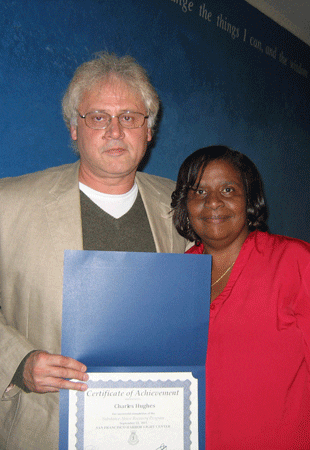 Unique and vital
The Salvation Army has a long history in providing top-notch drug and alcohol rehabilitation, leading  to today's highly successful Adult Rehabilitation Centers (ARC) that provide men and women an opportunity to obtain sobriety through work therapy—the heart and soul of the popular Family Thrift Stores across the United States.
In addition to this effective program, The Salvation Army has a unique jewel in San Francisco: The Harbor Light Center. Serving the San Francisco Bay Area for over 70 years, it provides comprehensive chemical dependency treatment for men, women, families and veterans. The program offers progressive care, education, workforce development and personal development. It's a social model recovery program, which allows participants to select their own path through it.
"Other programs are pretty lenient of what they demand of you," Hughes said. "The Harbor Light Center gives you great opportunities, but it makes you work—it's a program of action. You're given a lot of freedom, with an expectation to use that freedom constructively. In the balance, you're going to take heart of the things that are required of you."
The Salvation Army in San Francisco has a strong working relationship with the U.S. Department of Veterans Affairs (VA) that stretches back several decades. Beyond the shared purpose of Harbor Light and the San Francisco VA Medical Center, a great deal of success comes from the close communication between the experienced counselors at each center, creating a more comprehensive approach for each individual veteran.
"Veterans face unique personal issues as they re-enter civilian society from their time in service," said Envoy Jack Clitheroe, executive director of the Harbor Light Center. "Service men and women who are dealing with addiction are often struggling with service related stress like Post Traumatic Stress Disorder. We aim to provide specialized services to our returning veterans to help them not only achieve sobriety, but also gain access to their benefits, find work, gain housing and develop the skills necessary to lead fulfilling lives."
The VA chose Harbor Light as one of only 18 locations across the country to host a kick-off event for its new one-number call center for homeless veterans. Held in October, the San Francisco event featured remarks by Congresswoman Nancy Pelosi, San Francisco Mayor Ed Lee, and notable figures from the national VA. The VA is also funding the renovation of the facility to include 10 additional beds dedicated to the recovery of alcohol/drug-addicted veterans.
This California state licensed facility also offers veterans the opportunity to enroll at Harbor House, a re-entry/secondary program for single-parent families who are homeless. Harbor House gives single-parents in recovery the opportunity to reunite with their children in a safe and supportive environment, while having access to chemical dependency treatment, workforce solutions, and other supportive services—including an in-house child care center.
Finally, The Lighthouse Corps serves as Harbor Light Center's spiritual arm and community outreach component, including a highly successful street outreach ministry—an evening program where volunteers roam the streets of San Francisco, providing food, blankets and friendship to homeless individuals. Often, this effort builds trust among homeless individuals, leading many off the streets and into the Detox Center in search of a better life.
Recently graduated from the program, Hughes is now a counselor at Harbor Light's detox unit. He plays a valuable role in meeting with individuals, encouraging participants to stick with the program and stay on a focused path toward recovery. He plans to go back to school and get certified in drug and alcohol counseling.
"I started here…never having any intention of pursuing this as a vocation, but just a job," Hughes said. "In the past, I defined success in material terms; I never imagined success as helping others. However, showing people that there is another way—that their lives can change if they're open to the possibility and are willing to undergo an adventure—is one of the things I find most fulfilling.
"The need is there," he said. "A number of returning vets are going to need the same sort of help and the same opportunities that were given to me."
Laine J. Hendricks is the public relations director in the Golden State Division.
Photos by Laine J. Hendricks and Alexa Golden.