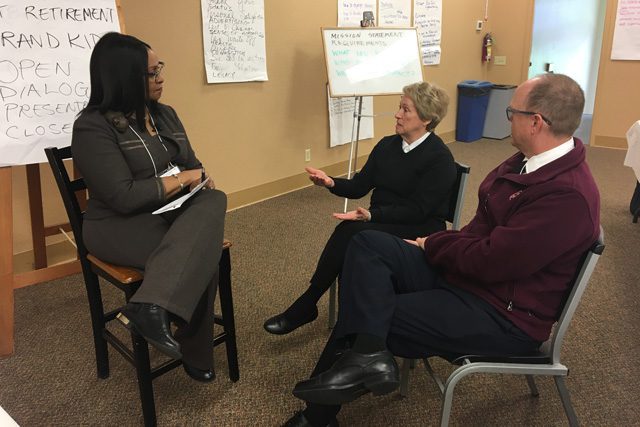 'Vision Possible' fundraising institute teaches local storytelling
Golden State and Del Oro officers and board members devise action plans to fundraise.
The Lilly Family School of Philanthropy recently brought a condensed fundraising curriculum to 120 Salvation Army officers, board members and staff of two divisions for a couple days of hands-on training at Camp Redwood Glen in Scotts Valley, California.
Funded by an anonymous donor who has a heart for capacity building, the "Vision Possible" fundraising institute focused on primary principles and techniques of fundraising, understanding donor motivations and building a convincing case for financial support.
It's something retired Lt. Colonel Bettie Love wanted to see happen for years. With 20 years of development experience under her belt, she saw a huge discrepancy between the quality of work The Salvation Army was doing and how effectively it was broadcasting it.
"I knew that we needed more training to communicate who we are in the local setting," Love said. "We know what the mission of The Salvation Army is, so now we have to ask 'what are the dreams of the local Salvation Army community?' Many officers and board members don't know how to make an elevator speech or build a case for support in their own environment…I think that every officer and board member should have an idea of what it means to fundraise and tell their story."
In large part, The Salvation Army handles its development work at the divisional level, but when you consider the ever-expanding landscape of the nonprofit sector, it can no longer afford to get by with just the designated fundraising professionals, Love said. Development work needs to happen at the corps level, too.
"We want them to feel enthused about their work, so they know that it is possible to make a difference," Love said. "It is possible to make a change in your community. You just need some tools to know how to do it."
"A lot of the time the corps officer has the passion and the drive when it comes to a specific project, but they don't necessarily have the confidence to approach a donor," said Lt. Colonel Cindy Foley, former Golden State Divisional Director of Women's Ministries. "And we find, a lot of the times, the bigger the donor, the lower the confidence. So we really wanted officers and board members to leave the training with the confidence to talk to our higher capacity donors."
The conference even had some positive financial outcomes. One of the board members who attended went home and wrote his own case statement as to why donors should support his local Salvation Army unit. He raised $25,000.
Love said it's stories like this that she had in mind when they were planning the conference.
"My other dream in all of this would be that every Salvation Army officer would have the Lilly Fundraising 101 class available to them," she said. "If we had more donor-investors willing to train our local Salvation Army officers, it could change the face of our financial situation in The Salvation Army."