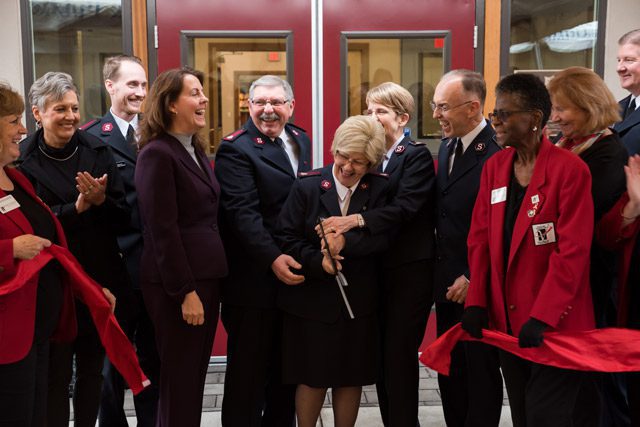 Vancouver Salvation Army holds grand opening
New building will allow Vancouver Corps to expand community services. 

























The Salvation Army in Vancouver, Washington, celebrated the grand opening of its new and expanded facility—located at 1500 NE 112th Avenue—that will allow the corps to offer more community services. The event took place Nov. 15 at noon, hosted by Vancouver Corps Officers Majors Michael and Susan Nute. 
Featured guests included Commissioners Kenneth G. and Jolene K. Hodder, Western territorial leaders; Majors Bill and Lisa Dickinson, Northwest divisional leaders; Vancouver Mayor Anne McEnerny-Ogle and Washington State Senator Ann Rivers, who with former Vancouver Mayor Tim Leavitt co-chaired the corps' "Growing Together" campaign steering committee. The Northwest Divisional Band provided music during the ceremony.
"After years of exploring various options for expanding services in Vancouver, the decision was made to build on property we already own," Michael Nute said. "The new building allows us to consolidate services that have operated for many years from a leased facility. This move saves us the most money and makes the most sense in bringing all services to a single campus."
McEnery-Ogle and Rivers spoke during the event, as did Vancouver Advisory Board Chair George Francisco and immediate Past-Chair Dennis Short.
Kenneth G. Hodder gave the dedicatory address. After Jolene K. Hodder prayed, the ribbon was cut. Lisa Dickinson closed the ceremony with a prayer.
"The dedication of this new and expanded facility signifies the culmination of a long-held dream in Vancouver: to give full expression to the Army's spiritual and social mission," Kenneth G. Hodder said.  "It's a tremendous achievement, made possible only through the vision of its officers, the active involvement of the soldiers, the warm support of the community, and the blessing of God. The future of the Army in Vancouver is bright."
Over recent years, The Salvation Army purchased lots on 112th Avenue, eventually accumulating 4.2 acres. Construction began in February 2019 and is mostly complete. The new facility includes a nearly 9,000 square foot community resource center with family services/administration offices, clothing room and shopping style food pantry. The older building was remodeled to expand the kitchen and convert office space into more classrooms for the corps' thriving after-school program.
Established in 1890, The Salvation Army Vancouver Corps provides services to families in need throughout the community. The basics of food, clothing, after-school care, homeless prevention services and job training are provided daily. Seasonally, The Salvation Army distributes school supplies and holiday assistance.