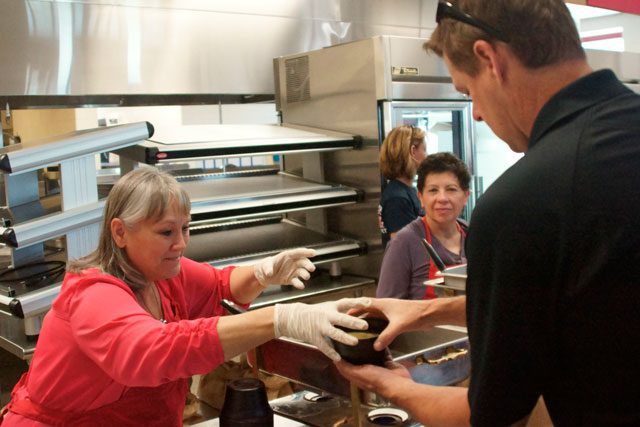 Filling bowls, fighting hunger
By Caramie Schnell – 
Each day, The Salvation Army fills empty bowls for hungry people around the country. It's a fitting name then for an event that helps to fill the Vail Valley Salvation Army's coffers each year.
For the sixth year, the annual Empty Bowls fundraiser took place in a high school cafeteria in Edwards, 20 minutes west of Vail, Colo., in mid August. The event draws around 400 people and raises around $15,000 each year, however, it does more than attract charitable donations.
"It brings awareness to people about how much hunger there is in our community," said Tsu Wolin-Brown, service center coordinator of The Salvation Army's Vail Valley Service Extension.
For a $20 ticket, attendees first choose a pottery bowl from the hundreds that are handmade and donated by local artists and community members in the months preceding the event. Next, they grab a tray and line up for lunch. The meal is simple—bread, a bowl of soup and a tiny dessert torte.
Lunch may be styled after a soup kitchen, but the offerings are homemade in the kitchens of some of Vail's best restaurants. Options range from classic, like tomato basil, to the more creative, like coriander-scented carrot or parsnip with bacon, brussels sprouts and calabrian peppers. All of the food and supplies are donated.
There's also a silent auction, with gift certificates donated by local restaurants.
Volunteer Diana Mathias saw an Empty Bowls fundraiser take place in Taos, New Mexico, to raise funds for its local food bank. She loved the sense of community surrounding the event and, after a little research, learned that Empty Bowls is an international grassroots effort to fight hunger. The group encourages people to start new events wherever and whenever they're able, and so Mathias brought the idea to Wolin-Brown and soon after the first Eagle County Empty Bowls event took place.
Similar fundraisers happen in cafeterias and soup kitchens in towns and cities across America, and in at least a dozen other countries, according to emptybowls.net. "Many millions of dollars have been raised and donated to hunger-fighting organizations," according to the website.
The event draws some of the same volunteers and attendees year after year, but there were some new faces at this year's event as well. Anne Anderson moved to the Vail area from Southern California in July and attended the event for the first time as a volunteer.
"It's a very unique way to raise funds to build awareness of the needs of the local residents and community," she said.
Stephany Marreel, director of gift planning for the Intermountain Division, volunteered at the event, calling it unique.
"I had an inquiry about it from people in Phoenix recently," she said. "It's a growing trend, I think. It really draws the public in. People get to fill an empty bowl and know that we fill empty bowls on a daily basis for people in need."