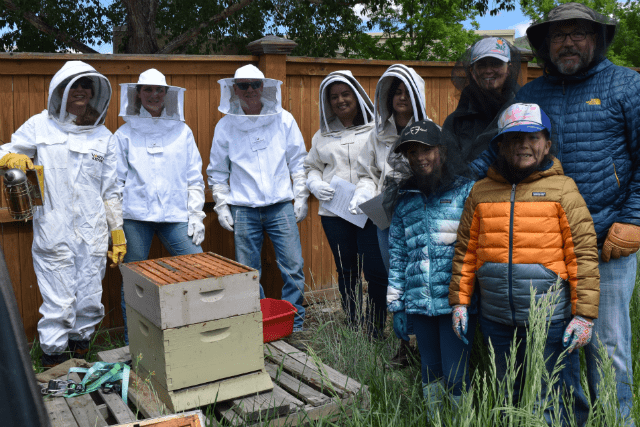 Salvation Army abuzz with new course in Vail Valley
A beekeeping course teaches residents to start and maintain their own hives.
ByVivian Lopez – 
A few years ago, Dana Swing of Vail Valley, Colorado, approached The Salvation Army with a question they never expected to hear. 
"Can I manage a beehive there?"
Vail Valley Coordinator Tsu Wolin-Brown thought it would make a nice addition to The Salvation Army's Greenhouse and Community Garden Program. So, they planted a new garden with flowers to attract bees and other pollinators, and Swing has maintained it ever since. 
This year, Swing, The Salvation Army's resident beekeeper, decided to share her passion with others. She started teaching a monthly Beekeeping 101 class in April after noticing a growing interest in the topic in her community.
"We thought it might be helpful for people to learn about the beneficial insects that are in our community. You see bees everywhere," Swing said. "We have a lot of cultivated beds…and you see bees foraging all over the place. People commonly mistake wasps for bees. So, it's fun to set the record straight and educate people about how wonderful these little creatures are."
The curriculum encompasses everything from tending the hive and treating mites and other parasites to noting observations and making food for the bees, such as sugar cakes and pollen patties. Swing and her students also clean the hive and handle the bees.
"Beekeeping is part art and part science. You can read all about doing something, and then when you go out and practice it, it's a different story," Swing said. "We'll make sure the hive is nice and tidy and that everyone is happy, and in the fall we will be harvesting honey."
Class activities vary by season. In the spring, Swing said the course focuses on making sure the bees have enough food to get them through the summer and that the queen bee is still in the hive laying eggs. Later in the spring, the students are checking and testing for mites and administering treatment as needed. In the summer, they check on the queen bee again to see that she's laying eggs as effectively as possible, and confirm that the bees are producing honey and have sufficient stores and room.
"They may be growing and they need more boxes or more capacity," Swing said. "You make sure that their house is the right size."
And when fall comes around, Swing said it's honey harvest season, but also robbing season.
"So, you've got to make sure the other bees aren't stealing from your hive," Swing said. "Then in late fall, you get the bees ready for winter."
With all of this practice, some of her students learn enough to set up their own hives in their backyard. If they do, Swing offers to go to their house and do a hive inspection to see what needs to be done. 
Todd Neifert, one such student, has attended the class with his wife since it began. He purchased a package of bees for the first time and wanted to learn the basics from an experienced beekeeper.  
"I've been studying videos almost daily for quite a while to get some information under my belt, but I wanted hands-on training and this was a good opportunity to do it," Neifert said. "It seems like beekeepers are more than willing to talk about beekeeping," he said. "I like the ability to connect and have that base of support for the newbies."
He's grateful the class gave him and his family a greater appreciation of what bees actually do. 
"They're not this horrible attacking stinging insect that everybody thinks they are," Neifert said. "If you approach this with the mindset of what is good for the bees, as opposed to what is good for the beekeeper, I think you'll have a much better experience handling and dealing with bees."