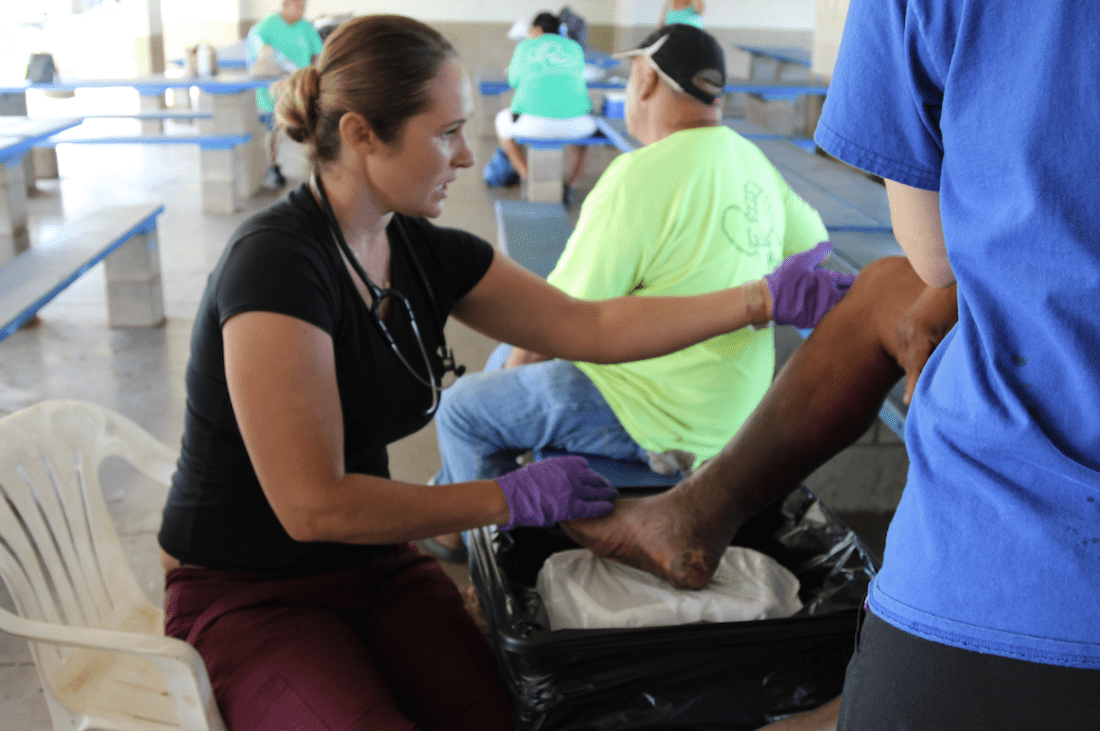 The Salvation Army partners with UH Maui to help homeless individuals
Nursing students and graduates provide wound care for those in need.
By Brandi Salas – 
The Salvation Army partnered with University of Hawaii Maui College (UH Maui) nursing students and graduates to provide wound care for the community's most vulnerable residents. Mark Saxon, Homeless Outreach Coordinator for the Kahului Corps, and Kahului Corps Officer Lt. Romelia Howard visited homeless encampments in Kihei to provide food, clean clothing and spiritual services. Nursing students and graduates of UH Maui attended to individuals in need of medical services.

Each week, The Salvation Army receives fresh fruit and food from nearby hotels, grocery stores and community partners. The donations are loaded into the homeless outreach vans, which head out to serve homeless individuals and families in Kihei, Paia, Kahului and Lahaina.
"We do outreach many times during the week, usually feeding breakfast and lunch," Howard said. "We start off with a prayer and then have fellowship over a hot meal. It's a way for us to meet their immediate need of food assistance and connect with them."
The partnership with UH Maui is new.

"This is our first time coming out with The Salvation Army to serve the homeless population on Maui," said Dr. Celeste Baldwin, a nurse practitioner and professor at UH Maui. "It is important for our students and graduates to have experience in engaging with homeless individuals because they often seek services at the hospitals. This partnership will definitely prepare them for the real world."
In addition to cleaning and bandaging wounds, the students and graduates educated the homeless about making healthier choices and getting clean and sober. They also distributed hygiene kits containing toothbrushes, toothpaste, bug spray and sunscreen.
Baldwin said that most of the injuries or conditions she sees within the homeless population are infected sites due to intravenous drug use, infected bug bites, and high blood pressure.
"We're seeing a lot of infected sores, probably from dirty needles," Saxon said. "When someone is addicted, that person becomes careless about his or her health and well-being. We hope our efforts with the UH Maui nursing department will continue to educate the homeless and get them the help they need."
The Salvation Army Kahului Homeless Outreach Services meets the needs of more than 100 people each week through food assistance, basic needs services, and referrals to case managers or partner agencies on the island. Of the many ongoing efforts to address homelessness on Maui, The Salvation Army prioritizes three initiatives: meeting immediate needs, case management, and homeless prevention. "It's important to us that we're working with a number of organizations and community partners that can provide services the homeless population doesn't regularly have access to," Saxon said. "Once their immediate needs are met, we can prepare them for case management and other services that will help them get back on their feet."