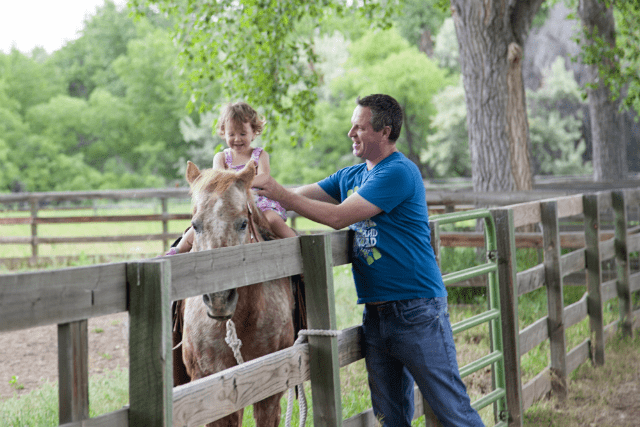 Unbreakable
A father in Fort Collins fights through homelessness to gain custody of his daughter with support from The Salvation Army.
By Caramie Petrowsky –
Mark Green used to look at people begging for money and make snap judgments.
"He looks like he could be working."
"He just wants to score dope."
And then Green, 46, lost his apartment. Suddenly, he too was spending his nights in shelters.  
"It made me realize, it can happen to a lot of people," he said. "When you see a person struggling on the street, how much do you know about that person? Even if you stop and talk to them?"
One of Green's resources during that time was The Salvation Army in Fort Collins, Colo., where he found much-needed services, like a place to do his laundry for free two days a week, single-ride bus passes, sack lunches, and referrals to agencies that helped him get his identification documents together so he could secure a job.
"What was really helpful was how nice the staff were [at The Salvation Army]," he said. "Jeanne [Pitre, social services coordinator] and Dorothy [Dulin, office manager] were just supportive. They'd have an ear for me, and would listen," said Green, who'd only moved to Colorado from Oklahoma a few months prior to losing his apartment.
In September 2014, Green lost all that was dear to him: first, his wife, who became increasingly unstable after the birth of their child, Ella Rose, until she had a complete breakdown; followed by the apartment the family had been renting in Greeley; and finally custody of his infant daughter, just four months old at the time, who was taken away because he was homeless.
Green spent the next 21 months fighting to find a job, get a home and ultimately regain custody of his daughter. He started working in July 2015 and two months later, in September, moved into an apartment.
In all, Mark was homeless for a year. He spent most of his nights in shelters, where he'd get up before the sun to go "like a racehorse trying to outrun homelessness," he said. When the shelters were full, he'd sleep in the cold.
"It made me compassionate toward people who are going through an honorable struggle," he said. "And it opened my eyes. I met a couple of people who were hard working, mentally sound, and had not done a bunch of irresponsible things."
Green's adopted parents died many years ago, he said.
"That was the end of my support system in life," he said. "You don't realize how quick you can be homeless. The average person doesn't even have enough savings to cover the next month's rent."
Through it all, Green tirelessly fought to get his daughter back, jumping through every hoop set forth by the Department of Human Services. He'd take a total of 10 different buses from Fort Collins to Greeley, where Ella Rose lived with a foster family, to be able to see her for two hours. He'd start at 6 a.m. and wouldn't get back to Fort Collins until after 5 p.m., but he did it.
"She would come running to me, telling everyone, 'This is my daddy,' when she could barely even talk yet," he said. "That bond was unbreakable."
This May, about a month after his spirited, blue-eyed, curly brown-haired child turned 2, Green was awarded full, temporary custody of Ella Rose again. Representatives from the Department of Human Services stop by for monthly observations. He's hopeful that by September, the case will be closed and that the "temporary" status removed.
Through it all, Green occasionally stopped by The Salvation Army for services and to update the staff on his progress.
"He's really taking good care of her—getting her healthy food, and making sure she has what she needs," Pitre said. "Mark did everything he could to make sure he was back on the right track. He didn't give up; he kept fighting to make it happen."
Green credits his faith in Christ for getting him through what was a traumatic few years.
"So many times I could have wound up in far worse places," he said. "To find out what a person is made of, they have to be put through the fire. That's how you get the diamond—you have to burn away the junk to get to the good stuff."