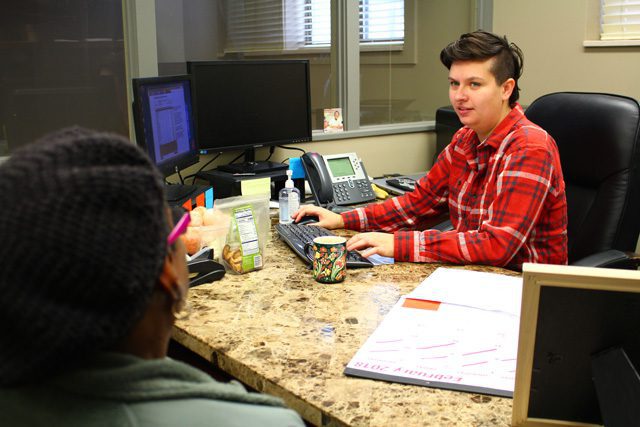 Salvation Army responds to Denver housing crisis
As city gentrifies, Housing Now program helps residents avoid homelessness.
By Eric Dietrich –
Ashley Clark was in a bind last September.
Her landlord was telling her that she had three days, as of Sept. 30, to get out of her Denver-area apartment to avoid a formal eviction. But the 29-year-old, a single mom with five kids including a two-month-old, didn't exactly have many options.
A social worker working with her oldest son, aged 11, helped arrange for a temporary hotel room, which bought her a few days. But then, with her housing search in the city's tight housing market proving fruitless, she moved her family into a room in a friend's basement.
A Denver native, Clark said she's lucky to have a Section 8 housing voucher, but it's limited to a few zip codes and many of the places she looked at wouldn't take it. Other landlords balked at the size of her household. And then there were the apartments she had to pass up because she didn't have a security deposit in hand.
"I cried a lot," she said.
Clark is the sort of person The Salvation Army's Denver-area Housing Now program exists to help.
As the city's population booms—with more than 300,000 new people in its metro area since 2010—its housing stock is becoming less and less affordable, said Housing Now Programs Manager David Cornish. That makes it harder for lower-income residents to keep themselves housed even if they're earning steady paychecks.
"While it's easy to get a job paying $9 or $10 an hour," he said, "the cost of housing is astronomical."
Historically, Cornish said, The Salvation Army's housing work in Denver has focused on people who have steady incomes but not the savings to put down the security deposit and first month's rent most landlords require up front.
As the city's housing crisis deepens, though, the program has retooled, looking at ways to provide more flexible support. The reality, Cornish said, is that different clients have different circumstances, which makes one-size-fits-all approaches ineffective.
"We have a duty to serve people in creative ways, and most people need a creative solution," Cornish said.
In addition to helping clients like Clark with up to $1,500 toward a security deposit and first month's rent, the Housing Now program offers case management and help for people who are facing the prospect of an eviction. It also runs a community partnership program where volunteers work with seniors and families to provide a helping hand as the clients work toward self-sufficiency. About 11 people a month participate in the Housing Now program, according to Cornish.
The Salvation Army also coordinates with other Denver-area social service agencies, he said, sharing information and referring people between them to save potential clients the headache of calling agency after agency until they can find one that can to address their specific situation.
As Clark continued her housing hunt, one of the calls she made was to The Salvation Army. She was paired with Housing Now caseworker Kathy Mulloy, who helped her get the security deposit roadblock removed and provided some information on places she could look for housing.
"She understood my situation," Clark said. "My background is not perfect, you know, and my credit score is not in the 800s."
It took her the entire month of October 2017, Clark said, but in early November she finally found a three-bedroom, two-and-a-half-bathroom apartment that would work for her family. She's now rebuilding her household, reacquiring the furniture and kitchenware she had to toss in her hurry to move out of her old place.
She's still at home caring for her baby, but she has plans for daycare so she can get back to work, or maybe go back to school. Without a stable housing setup for her kids, she adds, there's no way she could manage to hold down a job.
"Without Kathy and without Housing Now I don't know where I would be," she said. "And I don't want to think about it."