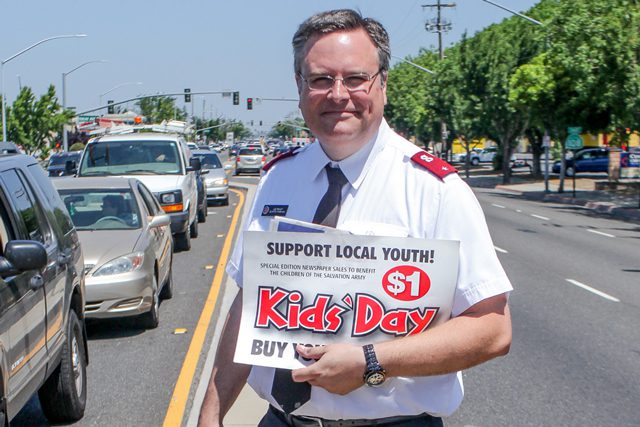 20th Kidz Day benefits Modesto youth
Event raises $97,000 to support Red Shield Community Center  
By Peter Michelini –
The Salvation Army Red Shield Community Center in Modesto, Calif., recently held its 20th annual Kidz Day event as 350 volunteers took to the streets to sell a special newspaper dedicated entirely to the center and its impact.  
Produced in partnership with 209 Magazine (Morris Publications), the $1 newspaper sales followed a three-month campaign to secure sponsors and donations. This year, the event raised over $97,000 to support local at-risk youth.
"The benefit of having our own newspaper is that we can use the paper to promote the Red Shield all year," said Cecilia Michelini, Kidz Day committee chairperson and Red Shield advisory council member.
And the paper was read by purchasers. Shortly after the event, an individual who purchased a paper on the streets visited The Red Shield Center to follow-up on an article in the paper. After a tour, the individual donated $25,000 for the renovation of the swimming pool.
"Every year our community rallies around the Red Shield to keep these children from becoming tomorrow's Salvation Army clients," Michelini said. "Through Kidz Day, and all of the other events that contribute to the center, The Red Shield has had great success in helping At-Risk children in the community to grow, graduate from high school, attend college and succeed as productive adults."
In its 20 years, the Kidz Day campaign has raised $1.26 million for The Salvation Army in Modesto.