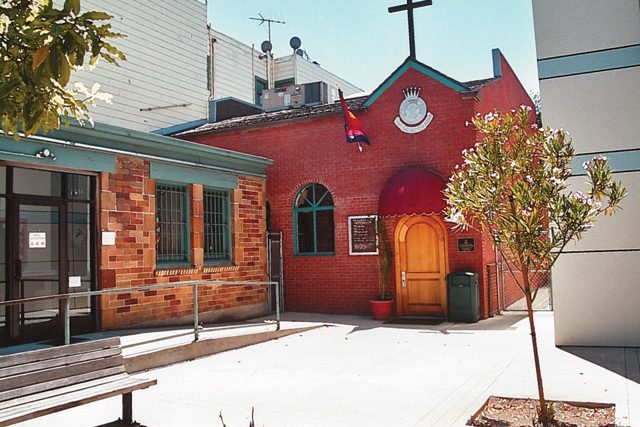 UCSF Medical Center partners with Harbor Light
San Francisco collaboration opens doors to continued care for discharged patients.
By Vivian Lopez –
The University of California, San Francisco (UCSF) Medical Center didn't have an easy way to link patients to substance abuse treatment once they were discharged from the hospital. But through a recent partnership with The Salvation Army Harbor Light Center, the hospital can now get patients directly into a program.
When a patient is medically and psychiatrically stable but still in need of further care, UCSF refers and funds the individual's stay at the Harbor Light Center for up to 30 days for respite care, stabilization services and substance abuse treatment. Harbor Light staff work with individuals for primary care and psychiatric appointments and to find more secure housing.
"The hope was that if we could have a way to continue care beyond the walls of the emergency department or the hospital, and have a partner that could help do that, then our patients would be healthier," said Dr. James Hardy of UCSF, who spearheaded the partnership. "Many of us felt that we were not getting at the root causes of some of the illnesses and visit reasons we were seeing patients for. The patients would come in with medical, psychiatric or substance-related problems, and we would try to do our best to stabilize them and rule out emergencies—or if they were admitted, they would have these issues cared for—but then afterward they would be returned to really unstable situations."
After piloting the effort in early 2017, UCSF expanded the program last summer and has to date referred 80 people to The Salvation Army. Seventy percent of those patients went on to graduate from the Harbor Light Center's addiction rehabilitation program.
"It helps to at least give a moment of pause in the cycle of destruction—in which people abuse themselves, go to the hospital, get well enough to live and go through that crisis moment, just to return to homelessness and abuse themselves again," said Major David Pierce, Harbor Light Executive Director and Corps Officer. "Here their welfare is taken care of, they're starting to get some emotional counseling…and a sense of good community, and then they might say, 'You know what, I'd like to have more for my life instead of simply going back to homelessness and abusing myself again.'"
Hardy said it's just the beginning of the venture as there's room for further development and the trading of ideas.
"We've learned a lot from Harbor Light because they have such a deep experience for caring for patients and have a lot to offer us in terms of how we think about further care, and we hope also to bring new ideas and new treatment plans that will be beneficial for Harbor Light, too," he said. "I feel that the partnership has been successful so far, but probably our best successes are ahead of us."
The pair are now piloting medically-assisted treatment, which allows clients to come into the Harbor Light and "titrate down in a safe environment"—coming off the medications slowly, as they transition to an abstinence-based environment.
"For some clients, the withdrawal symptoms are very severe, and if they don't have the medication they wouldn't be able to utilize our treatment services because we don't offer that supervision," said Angel Carter, Harbor Light Intake and Network Manager. "With UCSF providing us more supervision around medically-assisted treatment, we will be able to see those clients and to help them into a longer-term program."
Expanding on that, Hardy said opioid replacement therapies and opioid detoxification could be included as well.
"This would be a new territory for both of us," Hardy said. "The country is suffering a terrible opioid epidemic and…we have an opportunity to pull our experiences and come up with something helpful and new."
Pierce hopes this partnership sets a groundwork to open the center to more treatment models.
"I want all roads to treatment and homeless services to end at the Harbor Light Center, wherever they are in the city of San Francisco," Pierce said. "That's ultimately the mission of The Salvation Army—to see lives change."