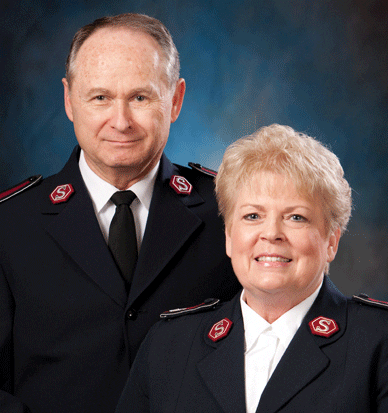 Two territories salute Griffins in retirement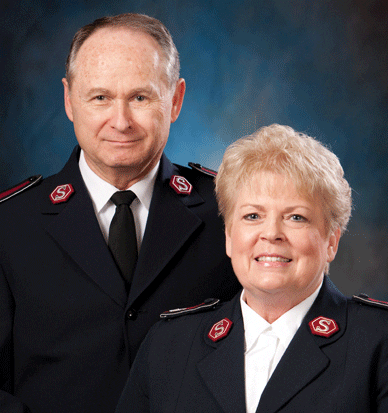 Western officers Colonels Terry and Linda Griffin retire from appointments in the Southern Territory.
By Dan Childs
Western Territory officers Colonels Terry and Linda Griffin recently entered honored retirement after 42 years of service in The Salvation Army. They served most of their careers in the West; however, their most recent appointments took them to the Southern Territory, where they served five years as chief secretary (Terry Griffin) and territorial women's ministries secretary (Linda Griffin).
Family and friends from both territories joined them on June 3 to celebrate their retirement with a dinner and ceremony at the Cobb Energy Center for the Performing Arts Ballroom in Atlanta, Ga.
The Griffins received a certificate of retirement from Commissioner David Jeffrey, Southern territorial commander. Commissioner Ronald Irwin, former Western territorial commander, spoke words of tribute to the Griffins and challenged them to approach their retirement as "your next appointment," and to continue to be active and effective Christian witnesses. Lt. Colonel John Roy Jones presided over the event.
The Griffins' children Tim (Melissa), Todd (Lavonne), Troy (Heidi)  and Melissa (Mark) shared recollections of Griffin family history in a video presentation, and the grandchildren joined in as well, expressing their own best wishes and congratulations to their grandparents. Following the video, the Griffins' children also honored their parents in a special song.
Both Terry and Linda Griffin are the children of Salvation Army officer parents. They entered training from the Seattle Temple Corps and were commissioned with the Undaunted Session in 1970. They were corps officers for 10 years, serving in Washington and Hawaii before an appointment of four years in youth ministry in Seattle. The next phase of their service took them to Southern California, where they served at the officer training facility and on the Southern California divisional staff. They later returned to the training school as principal and director of special services and campus life.
From Southern California, they were appointed to Alaska to serve as divisional leaders and later to the Pacific Northwest as divisional leaders. Later, they returned to Southern California to serve at Western Territorial Headquarters as program secretary and corps ministries secretary for two years. They were appointed to leadership positions in the Southern Territory in 2007.
In retirement, the Griffins will reside in Castle Rock, Colo.
From Southern Spirit