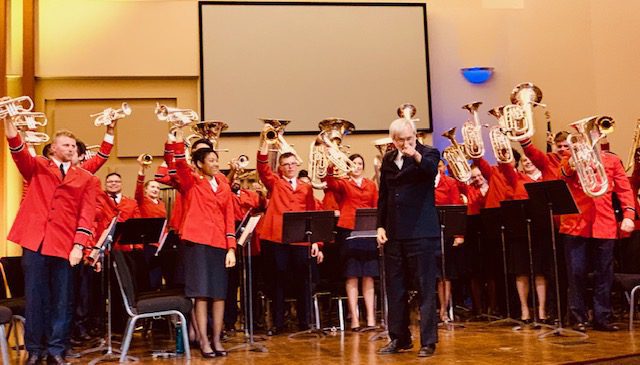 Tustin Ranch hosts 'International' Music School Concert
Four hundred young musicians take the stage in eight different bands
By Karen Gleason –
More than 400 young Salvation Army musicians, grouped into eight bands, performed at the Tustin Ranch (California) Corps Jan. 2, just one day after representing The Salvation Army in its 100th appearance in the Tournament of Roses Parade. The performers included 350 youth band members from other Army territories: USA South, Central and Eastern; Canada and Bermuda; United Kingdom and Republic of Ireland; Australia; and New Zealand, Fiji and Tonga; plus international guests from Jamaica, Chile, Brazil and South Africa, and 50 musicians from the USA Western Territory.
Tustin Ranch Corps Officer Captain Nesan Kistan opened the evening in prayer, after acknowledging the leaders in attendance: Commissioners Kenneth G. and Jolene K. Hodder, Territorial Commander and Territorial President of Women's Ministries, respectively; Colonels Douglas and Colleen Riley, Chief Secretary and Territorial Secretary for Women's Ministries, respectively; and Lt. Colonels John and Lani Chamness, California South Divisional Commander and Divisional Director of Women's Ministries, respectively. He also recognized Kevin and Jacqui Larsson, California South Divisional Music Director and Assistant Divisional Program Secretary, who planned and managed the group's activities.
"These young people had only six rehearsals to prepare for this concert," Kevin Larsson said. The musicians, who arrived Dec. 27, stayed at Camp Lawrence Daley at Mt. Crags. After their parade appearance, they returned to camp to prepare for the concert.
When massed, this group—the largest ever to march for The Salvation Army in the Tournament of Roses Parade—filled the stage of the corps along with its two side aisles. The concert began with the massed bands performing "Dies Irae" (William Gordon).
Instead of performing in their own bands, the musicians were mixed up, forming eight new bands. This way they experienced performing with other musicians and under a different conductor.
"We did this like a traditional music camp," Larsson said. "We call it the 'unofficial' International Music School, since the General would have to authorize an official one."
The stage was set to accommodate two bands at a time. The conducting bandmasters included: Neil Smith (USA Western), Craig Lewis (Canada and Bermuda), Duncan Horton (New Zealand, Fiji and Tonga), Harold Burgmeyer (USA Central), Kenneth Waterworth (Australia), Nick Simmons-Smith (USA South), Stephen Cobb (U.K and Republic of Ireland), and Derek Lance (USA East). (The pieces they performed are listed below.)
The bandmasters expressed appreciation to the California South Division for providing the young people this learning opportunity, and for their chance to work with youth from other territories.
"One of the joys of us as conductors is to work with these young, enthusiastic musicians," Waterworth said.
During transitions betweens bands, Jacqui Larsson, who handled logistics for the group, provided some statistics. Of the 350 young people, 200 are men and 150 are women. They all arrived on the same day, on 87 different flights, of which 95 percent were delayed, canceled or had mechanical issues. Six sets of luggage were lost, but eventually arrived. In addition to the parade, they performed at a basketball game and at a bandfest for 10,000 people. They let worship in eight different corps, had 15 camp meals, five In-N-Out burgers, and very little sleep.
John Chamness closed the evening with a special thanks to the Larssons and the benediction, and the massed bands performed "Auld Lang Sine."
The group will march through Disneyland on Jan. 3, beginning, appropriately, at the "It's a Small World" attraction. Another concert is planned for San Diego.
The youth bands from New Zealand, Fiji and Tonga (led by Duncan Horton) and from Australia (led by Kenneth Waterworth) performed at the Tustin Ranch Corps' annual New Year's Eve dinner and concert, along with the Tustin Ranch Band (led by Ed Freeman). In his New Year's Eve devotional, Kistan spoke of the power of music to calm, inspire and bring people closer to God.
"I believe the ministry of our bands speaks to us of the healing power of our risen Savior…releasing the power of God's presence, which is with us always," he said.
International Music School Concert
Neil Smith Band
"Abundance" (Marcus Venables)

"Hope" (Kevin Larsson)
Craig Lewis Band
"Lord, Lift Me Up" (Kenneth Smith)

"To The Highest" (Marcus Venables)
Duncan Horton Band
WSB 120 (Matthew Stein)

"You Are Life" (Tania Horton and Noah Spargo)

"Enter, Enter" (Britteny Ling)

"Sir Duke" (Stevie Wonder arr. Goff Richards)
Harold Burgmeyer Band
"Raise The Song" (Simon Morton)

"Finale from Symphony No. 4" (Tchaikovsky arr. William Gordon)
Kenneth Waterworth Band
"Assignment" (Dudley Bright)

"Boundless Kingdom" (Steven Ponsford)
Nick Simmons-Smith Band
"Thy Matchless King" (Joel Collier)

"Martyn" (Wilfred Heaton)

"Exultate (Kenneth Downie)
Stephen Cobb Band
"Glorifico Aeturnum" (Dean Jones)

"The Fruit of the Spirit" (Kevin Larsson)
Derek Lance Band
"Let There Be Light" (Steven Ponsford)

"Fearless" (Andrew Wainwright)