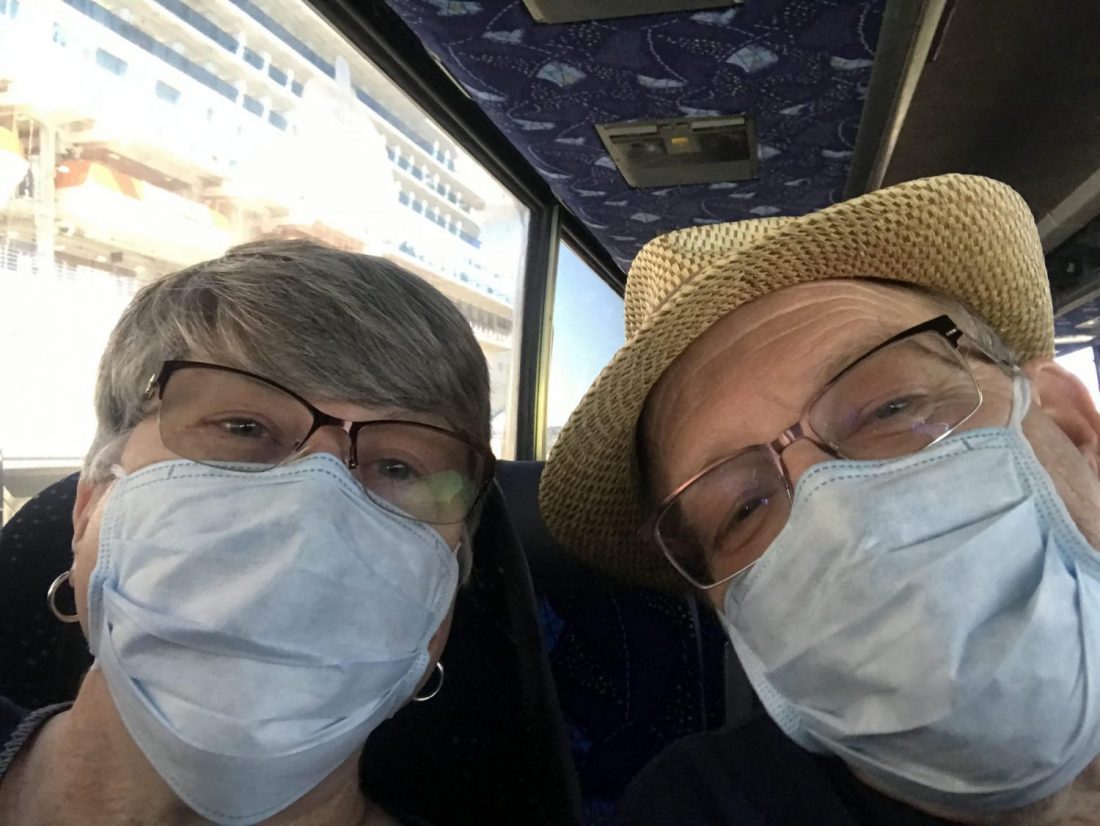 Majors Darren, LeAnn Trimmer: Choosing joy in quarantine
Reno Corps Officers Majors Darren and LeAnn Trimmer detained after a cruise.
By LeAnn Trimmer, Major–
As of March 11, Reno (Nevada) Corps Officers and Washoe County Coordinators Majors Darren and LeAnn Trimmer are quarantined on a military base in California for 14 days, after returning from a cruise. 
We were confined to our cabins on the cruise ship for one week beginning Wednesday, March 4. The day before, we'd been told the ship was altering course and heading for San Francisco because a passenger from the previous voyage had contracted Coronavirus. We saw the handwriting on the wall and made some preparations, like doing laundry. We remained on the ship until March 11. 
During this time, the situation was changing by the minute. The Captain and crew were making adjustments to norms quickly. What was frustrating for the passengers were the lack of information and the frequent changes—decisions that were out of the Captain's control. They worked to make life as good as possible under the conditions: they opened up internet access, made more movies available, started sending activity packs and provided a mental health service. 
When we finally disembarked we thought we'd be returning to Nevada; this was the information the Governor's office had shared. However, we are currently at a military base in California that has hotels on site for military families. We are housed here, and our hosts are working to make us as comfortable as possible. They are friendly, helpful and as accommodating as they can be. The quarantine order we are under is for 14 days. We've developed a bit of a routine—and I will say it is a good thing my husband and I like each other!
We maintain contact with family and friends. They've been great, adding some variety and humor to our days. The first contact we had with other passengers since our cabin confinement was when we disembarked and were moved to our current location. Our fellow passengers expressed varying responses, most in good humor. One woman among us is 90; we sat with her at dinner one evening. If I live to be 90 I want to be like her—positive, a bit spunky and energetic.
We are grateful to have a really good team of ministry leaders who support life in all The Salvation Army does in Reno. They have picked up the slack of our unexpected absence without missing a beat. I am glad to say that life continues there without us, which tells me that our Corps is healthy and moving in the right direction! Local leaders are the heartbeat of any Corps, and the heart in Reno is beating strong in our absence.
Sometimes, circumstances in life just happen. We have no control—they aren't in themselves good or bad; they just are. In ARP [Adult Rehabilitation Program] ministry we often discuss the reality that the only thing we truly control is our reaction or attitude. God has provided an opportunity for us to practice what we preach. We've been given some days to spend in quietness, taking time in Scripture, taking time to consider the work in Reno, learning to wait and be patient as we are dependent on others, doing things that we enjoy and often have little time for, and appreciating the friends who continue to reach out, loving us from afar and praying for us. If the Apostle Paul could choose joy in a Roman prison, I can certainly choose joy in quarantine!
HOW TO HELP:
If you'd like to make a monetary donation, please click here to make a gift.
Text 'GIVE' to 52000 to make a $10 donation to The Salvation Army. This will automatically add a one-time donation to your next mobile phone bill.
For information about volunteering, please visit volunteer.usawest.org.
To learn more about how to support The Salvation Army's relief efforts, please click here.