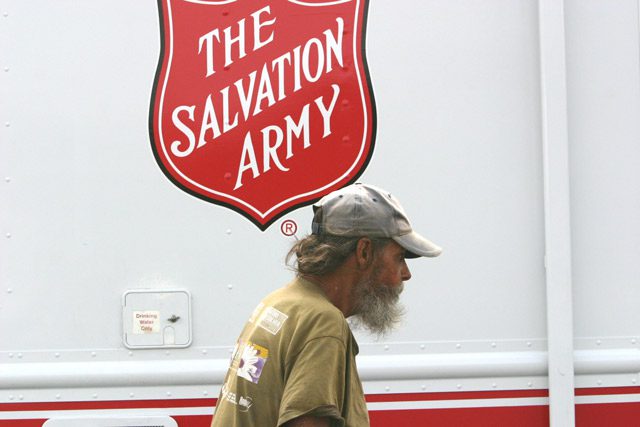 Tri-Cities Corps launches mobile homeless outreach ministry
A team of staff and volunteers meets the immediate needs of 25-35 individuals each week.
By Vivian Lopez – 
In light of a growing homeless population in the Tri-Cities area of Northern California—comprising Newark, Union City and Fremont—The Salvation Army switched up its approach. 
Over the last two years, the combined homeless population of the Tri-Cities area has increased 36 percent according to the 2019 Alameda County Homeless Count and Survey. 
"It's no news that we really are having a homeless situation in the Tri-Cities area," said Lily MacCallum, Tri-Cities Corps Social Service Coordinator. "What we were trying to do on a very small scale is sort of get out in our community and see what's going on and what we could do to help."
Since May, every Monday morning the corps' staff and volunteers head out to areas where large concentrations of those experiencing homelessness reside in the community—encampments, lots with people living in cars, and even a former hotel that is occupied as permitted by officials. 
"We have been evaluating different areas and what we can bring to assist them," MacCallum said.  
The Salvation Army team distributes sack lunches, snacks and drinks, as well as blankets, water, toiletries and hygiene items to up to 35 individuals a week.
"We provide not only sandwiches, but we want to provide hope for them," said Major Ho-Yoon Chang, Tri-Cities Corps Officer. "The purpose of our ministry is winning souls and expanding the kingdom of God. We cannot just wait at the corps where we are. It is more effective if we just look for them and then we reach them. That is more active for preaching the gospel. We want to be more active." 
Soon MacCallum plans on bringing out the corps' canteen to provide hot meals. She also hopes to partner with other community agencies in the future to build a strong program in which they can refer clients to one another for social services.
"This is just the beginning," MacCallum said
MacCallum believes that while the outreach effort is still small, it's making a big impact in the Tri-Cities area. 
"We need boots on the ground to see really what's the need of our community. This is really allowing me to do that. It's really allowing me to get in the trenches of what's going on under bridges and what people don't see," MacCallum said. "I'm out there trying to bless them and give them hope, and they're blessing me. That always really touches me."