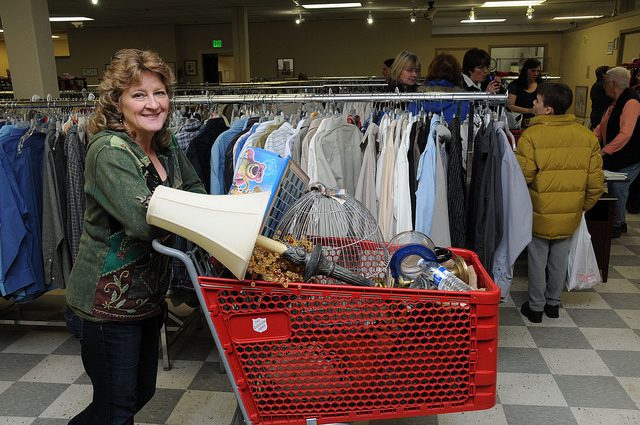 Transformed Treasures raises funds, awareness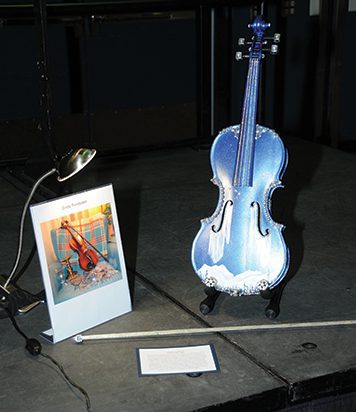 Event nets over $37,000.
By Sonya Senkowsky – 
The Salvation Army Alaska Division leveraged the talents of local artists to re-make Family Store finds for its eighth annual Transformed Treasures fundraiser last month. The event drew 489 guests and netted over $37,000 for Anchorage-area programs—a 25 percent increase in revenue and a 22 percent increase in attendance over last year.
A record-high 100 artists participated in transforming discarded items into treasures, which local celebrity auctioneers presented at the Transformed Treasures luncheon at the Egan Center, a major convention venue in downtown Anchorage.
Each year, artists select their items, take "before" pictures, and then transform them into completed works worthy of auction. This year's one-of-a-kind treasures included a fur vest transformed by Divisional Director of Women's Ministries Major Jeanne Baker into a teddy bear that sold for $250; furniture, dollhouses and toys transformed into elaborate puppet theaters and play sets; and an old, unplayable violin turned into a Northern Lights music box, which went for close to $1,000 in the live auction.
"It's amazing what can be done with old, worn out stuff in the hands of an artist," said Divisional Commander Major George Baker. "[It was] great reminder of the transforming power and grace of God, the ultimate creator and artist."
KTUU Channel 2 Anchorwoman Maria Downey and retired anchor Sheila Balistreri led the bidding. Former Salvation Army beneficiary Kelvin Lee was guest speaker; his life was transformed 10 years ago when he received addiction treatment at The Salvation Army Clitheroe Center. Now president of the nonprofit No Limits, Inc., Lee is also the subject of a new three-minute video relating his journey from addiction to recovery.
The Salvation Army Women's Auxiliary started Transformed Treasures eight years ago to help increase sales at Anchorage-area Family Stores. The event is also a reminder of the transformations enabled every day by The Salvation Army's ministry of service.
Sponsors included Northwest Strategies, Color Art Printing, BP, Alyeska Pipeline, Lynden, Udelhoven Oilfield System Services Inc., and Woods Plumbing and Heating, Inc.