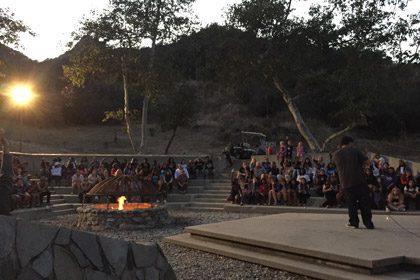 Training future leaders
Youth employees at Camp Mt. Crags and Gilmore get opportunities to earn and learn.
By Chadwick Phillips –
The Salvation Army has fostered faith in children and young adults through camp since 1939, and every summer, thousands of kids arrive ready to explore, learn, and grow in the outdoors.
Located among the Santa Monica Mountains in Calabasas, Calif., Camp Mt. Crags and Gilmore are just two of the many camps that The Salvation Army hosts.
"We have the opportunity to have a little over 2,000 campers come in a seven-week span to our camp programs," said Camp Director Marty Brown. "Our main mission is for inner-city, underserved youth to be able to attend camp."
As a child, Brown attended Camp Mt. Crags and Gilmore and went on to work at both camps in various positions.
"When I was 15 I started working at the camp and did that for approximately 10 summers in a row," Brown said. "I worked my way up from dishwasher to maintenance to cabin leading to program directing."
Now, as the camp director, Brown is in charge of facilitating all activities on the campgrounds.
 "We look at it as a ministry where we are able to serve [our campers] fully, so that they can come and grow closer in their relationship with Christ, or with leadership building, or whatever they're at camp for," he said.
In addition to the focus on campers, Brown wanted to encourage spiritual growth in young camp employees. He initiated the Timothy Program at a camp in Canada and subsequently brought the concept to Mt. Crags and Gilmore in 2014. The idea is simple: use senior staff members as spiritual guides for young camp employees.
Throughout the summer, approximately 32 employees will experience the Timothy Program. Divided by age, the program is split into two groups: Timothy One with 14- and 15-year-olds, and Timothy Two with 16- and 17-year-olds.
"Our 14- and 15-year-olds stay with us for a full three weeks; eight youth per session. During those three weeks we are very intentional with providing leadership for them," Brown said. "Every afternoon, they are in classes, and one day a week they are fully taken out of the work environment and they are going and doing something intentional about their personal growth."
From organizing food pantries to serving the homeless, Brown is intent on showing young employees what service is and what serving others looks like.
"The Timothy Two program for 16- and 17-year-olds is an all-summer program. They help our program leaders and learn how to lead a chapel service or work on curriculum," Brown said. "They learn two different kinds of job roles and they're more counted on for doing work at camp and getting things accomplished; however, there is still a lot of intentional study time for them."
The Timothy Program is led by senior staffers that possess qualities necessary to be a pastor and to hold up the curriculum. Brown chose Timothy as the name for the program because of his studies on mentoring and discipleship during seminary.
"Timothy and Paul's relationship is a great mentoring relationship," he said. "That's really what this program is about."
Sarah Dulmage, camp program manager, works with campers and is in charge of overseeing and making sure that all programs are running smoothly.
 "It's such a blessing to be able to push people out of their comfort zone in order to grow," Dulmage said. "I've really learned to be flexible. I think one of the biggest things I'm learning is grace—leading with grace and a gentle hand."
 Dulmage also oversees the Timothy Program and assists its leaders in developing the summer curriculum.
"Building understanding into the Timothys and walking alongside of them as they are growing in their faith has been very rewarding," she said.
Although the program is still growing and improving, Brown is happy with its success thus far.
"After our first summer we got to hear some stories from those in our Salvation Army corps that said the Timothy Program was a benefit for their youth," Brown said. "When you hear some of those stories, it gives some credibility to the program's success."
Brown hopes that programs similar to the Timothy Program can be hosted not only at summer camps, but year-round camps as well.
"Discipleship is needed in our church; mentoring is needed in our church; and that's not to say it's not there already, but something like this can be something that's great for our Salvation Army corps," he said. "My ultimate goal is spiritual growth. It's to allow a Timothy—a 14 to 17 year old—to have a greater opportunity to grow spiritually so that when they leave the bubble of what is camp they are not only more ready to face this world, but are more spiritually equipped to go back into their churches and to help."