Totally tubular—"Surf the Kettle"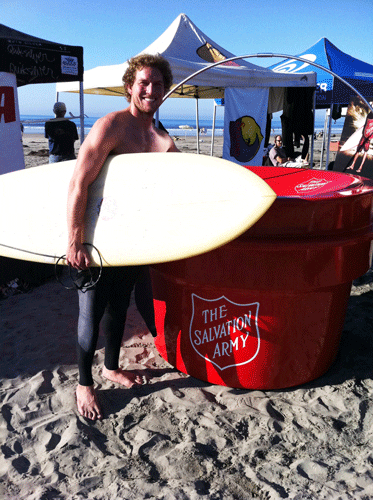 Giant red kettle is unveiled at a San Diego surfing competition.
 BY ASHLEE GONCALVES-HELLINSKI and SUZI WOODRUFF LACEY
The Salvation Army Sierra del Mar Division unveiled its new 5-ft. tall red kettle at a major surfing competition Thanksgiving weekend in San Diego.
Divisional headquarters needed a new red kettle for local events, and they also wanted to inform a younger demographic about the Army's work. Brainstorming ideas that were relevant and creative, Army team members came up with the "Surf the Kettle" idea. They partnered with George Gall, a master shaper at Plus One Surfboards, who constructed a giant kettle from surfboard materials. They then contacted a local surf club to help with the kettle's unveiling.
The 5 ft. x 5 ft. red kettle is made from foam specially cut, shaped and encased in Fiberglas. Walter N. Coffman—of WNC Foam Shapes—donated all the foam for the kettle and lid. As a child during the Great Depression, he had received help from The Salvation Army and wanted to give back.
During the event, surfers from WindanSea Surf Club walked around carrying shields with a QR (Quick Response) bar code, offering a quick and easy way to donate. "Stoked" surfers stopped by for a photo with the kettle and children were hoisted up to drop their gifts in. Many adults had to stand on their toes to insert their offerings.
"The red kettle was a great draw for the surfing community and provided a centerpiece and pulpit for us to share the mission of The Salvation Army with others," said Captain Kenneth Perine, divisional secretary for business and programs. "Many who heard the message and saw us were personally thankful for our work and presence. We are a trusted organization with a clear mission. The sunny day and good surf just added to the event."
Making its holiday rounds, the kettle can be seen at the El Cajon Corps' holiday party at Viejas Casino, several fundraising breakfasts, the ABC 10/Westfield Mission Valley Winter Fest and on the field at the San Diego Chargers/CBS 8's Red Kettle Event Dec. 11.