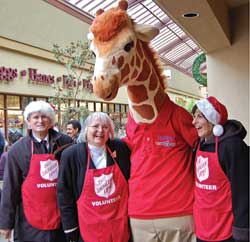 'Tis the season
Tinkling bells; the warm glow of colorful lights in green, gold, silver, red and white; Salvation Army red kettle bell ringers standing in front of Walmart and Target stores—these are the sights and sounds that usher in the Christmas season.
Although the "Reason for the season" and "Wise men still seek him" are the principal messages heard throughout the 10 Western Territory divisions, many corps have adopted their own unique ways to celebrate the birth of the King.
Below are some of the ways that Western corps are kicking off the holidays.
Alaska
At the 2010 Season of Giving Luncheon, held Nov. 17, 2010, in Anchorage, business professionals and friends of the Army raised over $117,000 dollars. During a five-minute bell ringing competition, 40 "celebrities" vied for the title of "2010 Celebrity Bell Ringing Champion." Victorious again was Nick Pepperworth, representing Udelhoven Oilfield System Services, who has won for the last three years. This year he collected more than $27,000.

Cascade
The Salvation Army of Marion/Polk (Ore.) counties partnered with Woodburn Company Stores to kick off the holiday season on Nov. 15, 2010, with the lighting of the tallest Christmas tree in Oregon.
On site were bell ringers, a Salvation Army band and the Dickens Carolers. Local radio personalities hosted the event. Two award-winning a cappella singing groups performed—"On the Rocks" from the University of Oregon and "Outspoken" from Oregon State University.
The ceremony began when 30,000 LED lights and ornaments illuminated the 90-foot tree.
On Dec. 13, in Portland (Ore.), prominent public servants and executives faced off in a red kettle contest. Participants were John Klum, chief of Fire and Rescue, vs. Mike Reese, chief of police; Don Pearson, region president of Wells Fargo, vs. Brian Rice, district president of Keybank; Mike Ellis, president of Fred Meyer, vs. Steve Frisby, Portland division president of Safeway; D.J. Wilson, president and general manager of KGW, vs. John Tamerlano, general manager of KATU; and Bob Proffitt, chief operation officer of Alpha Broadcasting, vs. Robert Dove, general manager of Clear Channel Communications.

Del Oro
The Hayward (Calif.) Corps began their fundraising season in mid November with a Kettle Kickoff Celebration at Hayward City Hall. Hayward Mayor Michael Sweeney placed the first 2010 red kettle donation in the city's kettle. Over 100 invited guests attended the combined donor thank-you lunch and Christmas launch.
This year the newly formed Suisun City (Calif.) Corps debuted its first ever Red Kettle Kickoff at the Jelly Belly factory. Corps officers Captains Jonathan and Vickie Harvey hosted the event while the popular candy company provided its facilities. Called "Very Cherry" after one of Jelly Belly's most popular flavors, the social affair raised over $9,000.
Golden State
Bakersfield (Calif.) kicked off its 12th kettle kickoff with a silent auction of items from their community. Included was a brass bell with a hand-painted Salvation Army Christmas graphic by artist and illustrator John Rowe.
Turlock Corps' 14th kickoff saluted its veterans with special guest Jim Sanders, one of the corpsmen that liberated a World War II concentration camp when the U.S. forces entered Germany.
Seven minutes of pandemonium characterized the Monterey Peninsula Corps' kettle kickoff as table sponsors ran through the room trying to fill their kettles any way they could. Since its inception 11 years ago, the annual event has raised over $1 million.
So far this year, Golden State Division kettles have brought in more money than this time last year.
Hawaii and Pacific Islands
Hawaii experienced a "first" this year. Newly elected Governor Neil Abercrombie launched a cashless kettle in downtown Honolulu as he stepped up to the machine and made his historic "plastic" donation. The machines accept both ATM and credit cards.
Hilo is hoping for another successful season for the Angel Tree. Last year the program netted 637 individual gift requests; every one was filled.
Intermountain
The Colorado Avalanche professional hockey team hosted the metro Denver (Colo.) Corps' annual kettle kickoff at their game on Nov. 27, 2010. A five-piece brass band and more than a dozen bell ringers entertained fans waiting outside for the doors to open.
Divisional leaders Majors Victor and Joan Doughty were on the ice inside as the Avalanche's coaches dropped their money in a red kettle to officially open the campaign.
Northwest
The Yakima (Wash.) Corps hosted the annual Motorcycle Parade on Nov. 7, 2010. This event is for local motorcycle clubs, which provide new toys for area families. Over 191 bikes and over 250 enthusiasts participated in the parade this year. Yakima Mayor Tom Morrow, dressed in leather jacket and red epilates, rode shotgun with driver John Tull.
For the third year, the Army partnered with the Toys for Tots program to collect and distribute the gifts.

Sierra del Mar
The Salvation Army Ray and Joan Kroc Corps Community Center (San Diego) offered to waive their new membership fee between Dec. 6-17 to anyone who brought a non-perishable food item or unwrapped new toy to the center.
The Kroc Kids drama group performed A Christmas Carol.
The San Diego Bicycle Club sponsored their 23rd annual Light Up A Life Toy Ride. Every rider brought an unwrapped toy to donate to The Salvation Army.
Southern California
Southern California Divisional Headquarters chose 2010 to be the "Year of the Bell Ringer" to pay tribute to the faithful, dedicated faces behind the red kettles.
Peter Adup—one of the "Lost Boys" from Sudan who escaped to the U.S. as a teenager when his entire family perished due to political strife—was recognized as the 2010 "Bell Ringer of the Year."
Southwest
Flagstaff (Ariz.) Corps Officer Lt. Mike O'Brien reports that on "I'll Fight Day" (Dec. 4), 15 corps members went door-to-door handing out Christmas gift-wrap and extending invitations to the community.
The Boy and Cub scouts of the Pahrump (Nev.) Corps collected 1,570 pounds of food to help provide Christmas dinner for less fortunate families.
A touching note showed up in one of Alamogordo Corps' red kettles: "My mother was a lifelong alcoholic. You helped her get clean and gave her a place to live until she died. God bless you and all you do."
At the Lake Havasu City (Ariz.) Corps, individuals adopted "Forgotten Seniors" to bless them with a gift.