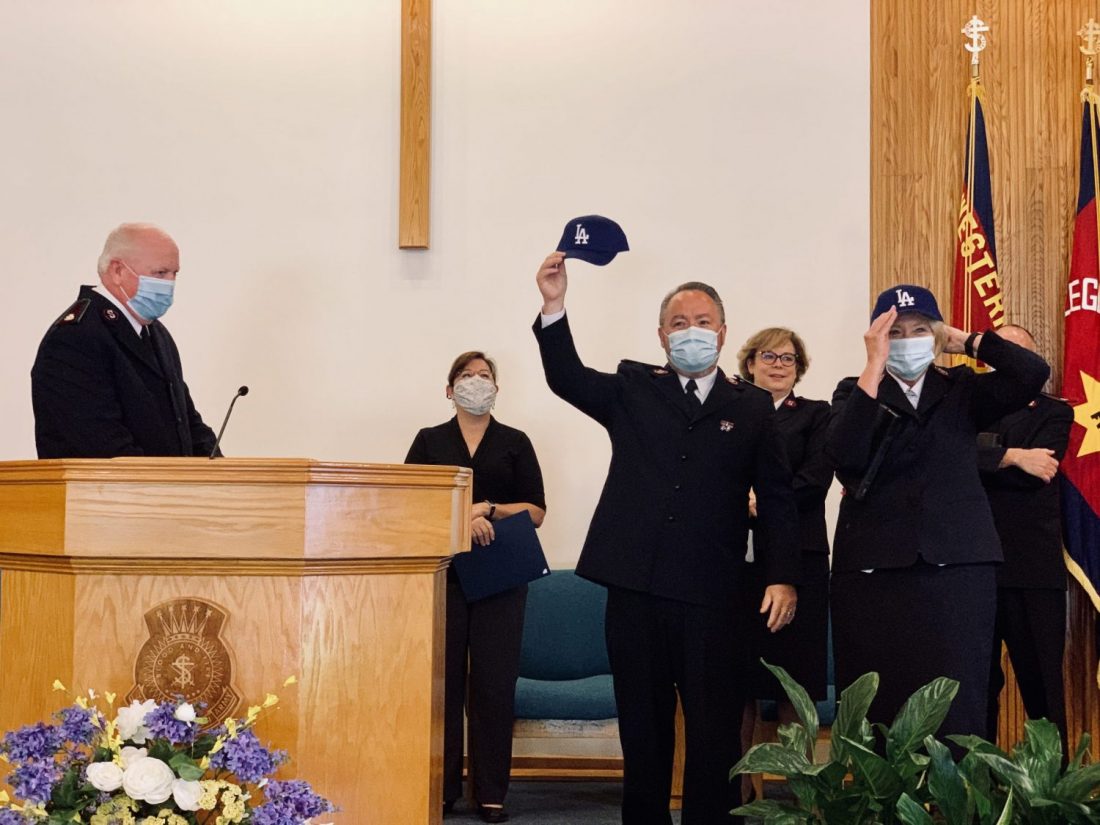 THQ welcomes Iglehearts at chapel service
Captain Hannah Lee also welcomed as personnel officer.
By Karen Gleason–
Officers and employees at The Salvation Army Western Territorial Headquarters (THQ) in Rancho Palos Verdes, California, greeted new personnel July 8 at a welcome chapel. While some attended in person, others watched online as Territorial Leaders Commissioners Doug and Colleen Riley welcomed Colonels Kelly and Donna Igleheart, new to the West as Chief Secretary and Territorial Secretary for Women's Ministries, respectively, and Captain Hannah Lee, who comes to THQ as Personnel Officer. 
Despite face masks and social distancing, the mood within the Crestmont campus chapel was cheerful as the meeting began and heightened as it continued.
During her opening remarks about the Iglehearts, Colleen Riley quoted Collosians 3:12: Therefore, as God's chosen people, holy and dearly loved, clothe yourselves with compassion, kindness, humility, gentleness and patience. "This verse—the kindness, the compassion, the unity, the love that they have for Christ—exudes through their relationships with other people," she said.
Before speaking to the Iglehearts, Doug Riley called Major Jonnette Mulch forward, for a surprise recognition of her 35 years of service as a Salvation Army officer. Mulch currently serves as Assistant Program Secretary for Corps Ministries.
Riley then took a different approach to his welcome of the Iglehearts, with a series of questions designed to get to know them better, asking about their favorite books, hobbies, movies and foods—Kelly Igleheart likes to ride his motorcycle and Donna Igleheart's favorite movie is "Sleepless in Seattle." Riley asked how long they'd been married, and Donna Igleheart deferred to her husband, who quickly answered, "39 years and about 50 days."
Finally, Riley asked them about their hopes and desires as they begin their service in the West.
"This is a new day," Donna Igleheart said. "I hope that we would be able to take these challenging days that we've gone through, learn from them, and not really want to go back to the way it was. I believe God is doing something new."
Kelly Igleheart said his hope was to share the gospel with a hurting world. He shared hopes for those listening, too. 
"I would also hope for you that you would continue to find your purpose here at The Salvation Army and particularly those who are employees or those who are watching from home—that you are loved, valued and appreciated," he said. "We're glad that you're on our team…We're in transition; our territory is in transition, but our rock is Jesus. And so in those moments when the wind blows and the seas are rising, I pray that you know who your rock is and that you stand firmly."
Responding to the welcome, Donna Igleheart spoke words of appreciation and encouragement to the Rileys. She got emotional while talking about the time she and her husband served in South Africa—their most recent appointment—and how difficult it was to leave there, but said they are now fully present here; the Western Territory is home. She quoted Isaiah 43:19: "For I am about to do something new. See, I have already begun! Do you not see it? I will make a pathway through the wilderness."
Territorial Property Secretary Dave Bentley offered words of welcome on behalf of THQ and Training Principal Major Nigel Cross spoke for the College for Officer Training. Bentley had some humorous words of advice for the new Chief on how to get things done in board meetings. Speaking to the Iglehearts and Lee, Cross quoted Proverbs 3:5-6: Trust in the Lord with all your heart and lean not on your own understanding; in all your ways submit to him, and he will make your paths straight.
In her testimony, Lee spoke of growing up in Korea in a Christian family, and of personally encountering God in third grade. She described herself as a dreamer, reader and writer. Eventually she became a nurse, and the Scripture verse, "I am the resurrection and the life," took on deep meaning for her as she worked with people who were dying. "[God] put the hope of heaven in my heart," Lee said, and she thanked God for her life every day. 
After she and her husband wed, they immigrated to the United States, living in Chicago before moving to California. They became active in ministry with The Salvation Army. When Lee was first asked if she'd consider becoming an officer, she said "no." Later, when asked again, she said she'd pray about it. While praying, God gave her a message: Luke 4:18: "The Spirit of the Lord is on me, because he has anointed me to proclaim good news to the poor. He has sent me to proclaim freedom for the prisoners and recovery of sight for the blind, to set the oppressed free."  The Lees entered training and were commissioned with the Heralds of the Good News Session. Captain Dean Lee is appointed as Chaplain of the Los Angeles Silvercrest.
"God's plans are always perfect," Lee said, and she referred to Isaiah 43:1: "Do not fear, for I have redeemed you; I have summoned you by name; you are mine."
Kelly Igleheart asked a rhetorical question to begin his devotional: "How's 2020 going for you?" 
"It's not what you'd thought it would be," he said. He considered how people respond when they want to leap off the trail they're on, quoting Isaiah 40: 28-31. 
"I claim those verses," Igleheart said, emphasizing their magnificence, particularly verse 31: those who hope in the Lord will renew their strength. They will soar on wings like eagles; they will run and not grow weary, they will walk and not be faint. 
Through everything, God has always been there, Igleheart said. "You know what I love about the Bible—that it transcends time and eternity. It's relevant for today; it's not a history book." He quoted Malachi 3:6: "I the Lord do not change."
In closing, he circled back to his original question, inviting listeners to choose a different perspective when thinking about 2020, and quoting Hebrews 10:23: Let us hold unswervingly to the hope we profess, for he who promised is faithful.
Territorial Music Secretary Neil Smith played piano during the meeting. Territorial Youth Secretary Major Bob Louangamath led the first song, "Be Strong in the Grace of the Lord." Following CDC guidelines, the assembly did not sing, but listened as Louangamath recited the verses, joining in the reading on the chorus. 
Territorial Program Secretary Lt. Colonel Lisa Smith led the closing song, "Victory in Jesus." She was interrupted during her reading of the verses by her husband, Territorial Communications Secretary Lt. Colonel Kyle Smith, who had a presentation for the Rileys as they begin their time as Territorial Leaders. After offering scriptural encouragement, he noted that most rulers would begin their reign with a sceptre and a rule book. More appropriate in their case, he presented them with an ice cream scoop—Doug Riley is known to love ice cream—and a prayer book.
To make sure the Iglehearts assimilate into Southern California life, Riley presented them with LA Dodgers baseball caps.
Women's Ministries Administrative Aide Margaret Grieco gave the prayer and benediction. Afterward, ice cream was served.