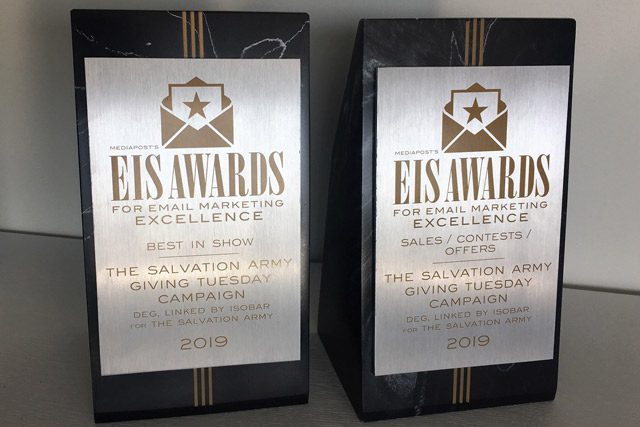 THQ Digital Team Awarded for Excellence in Marketing
By Cory Gaudaur – 

In 2017, The Salvation Army sent only one email to supporters in the Western U.S. about Giving Tuesday, a global day of giving on which generous donors around the world support causes that are important to them. Seeing the missed opportunity for engagement with supporters––and a potential increase in revenue––the digital team at The Salvation Army's Western Territorial Headquarters devised a plan to join the Giving Tuesday conversation and ended up with an awarding-winning 2018 campaign. 
In September, the digital team and their agency, DEG, were recognized by MediaPost at the 2019 EIS Awards, which highlights outstanding email marketing programs and initiatives undertaken by brands and their agencies. The Army's 2018 Giving Tuesday campaign won in the category of Sales/Contests/Offers and went on to win Best In Show––a category that included campaigns from brands such as Uber, NFL, AARP, Coach and Chobani. 
"It is amazing to be nationally recognized for our email program, knowing all the hard work and team effort it took to get us to this point," said Territorial Director of Digital Strategy Brenda Jones. "To go up against big brands such as Uber and NFL, it's very rewarding to know that The Salvation Army is seen as a creative and innovative organization." 
The territory's strategy for Giving Tuesday 2018 included a series of emails, starting with two reminders to save the date or make a gift in advance of the fundraising event. Animations were featured throughout the series to engage email subscribers, including a calendar with days falling off as time approached Giving Tuesday. 
When Giving Tuesday finally arrived, the digital team stepped up its fundraising game with two additional emails that featured stronger donation asks and matching gift opportunities for subscribers. In the end, the campaign raised 85 percent more than the initial goal and increased the number of donors from 2017 by 800 percent. 
Looking to the future, Jones said the team intends to keep innovating and improving its strategy. This year, Giving Tuesday falls on Dec. 3 and email subscribers have already started receiving save the date reminders. 
See more and give at bit.ly/giving_tuesday_2019.