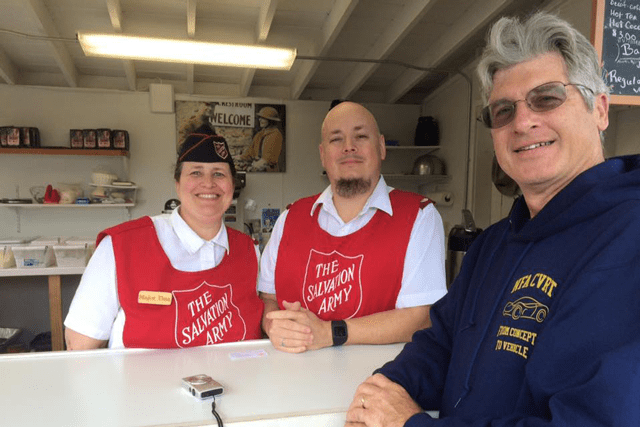 The Salvation Army sweetens up Hoonah
Majors Kevin and Tina Bottjen run General's Doughnuts to support the corps' ministry.
The Salvation Army is making a life a little sweeter for residents and visitors in Hoonah, Alaska, thanks to Majors Kevin and Tina Bottjen and General's Doughnuts.
Appointed to lead the Hoonah Corps in 2015, the Bottjens found themselves in an island town of fewer than 1,000 people–population 753 in 2013–accessible only by sea or air. Fundraising options were limited.
And in Hoonah, so were sweet treats; the town didn't have a bakery.
Recognizing the opportunity, the couple decided to open a doughnut shop.
After some research online, Kevin Bottjen crafted 12 unique homemade recipes and in November 2015, General's Doughnuts–named for Salvation Army Founder General William Booth–opened for business. The shop sells doughnuts year-round.
"My personal favorite is the pistachio doughnut," Bottjen said. "But our best sellers are the blueberry and cinnamon sugar." The locals are asking for his recipes but he's keeping that close to the chest.
They also sell a special Salvation Army coffee blend, custom roasted in Juneau and available by the cup or by the pound.
As Hoonah is a cruise ship town, with over 76 cruise ships docking during the summer–with thousands of visitors–the Bottjens saw another opportunity. In May 2016, they opened Lil' Gen's doughnut hut at Icy Straight Point and began selling mini-doughnuts to tourists and locals.
Business was so good during the inaugural season that they hope to expand the menu in 2017 to include nachos, and they plan to hire part-time staff.
"We each put in over 700 hours this past summer making and selling doughnuts and drinks, and our one volunteer worked another 300," Bottjen said. "We were busy."
In fact, they sold over 80,000 doughnuts between May and September–doughnuts that helped send six Hoonah area kids to the Army's summer youth camp. Since Hoonah is located 600 miles from The Salvation Army's King's Lake Camp in southcentral Alaska, it can cost up to $1000 to send a single child to camp.
"It's been years since Hoonah Corps has been able to afford to send any kids to camp, and we're looking to send more next year," Bottjen said.
If business stays as good as it has been, the Bottjens plan to acquire a bus to support the corps' youth ministry, which they hope to expand.
"This is a small community," Bottjen said. "The kids have nothing to do. They have few programs, and fewer services. Lil' Gen's is doing a lot of good for the kids in Hoonah."
No doubt some of those kids might make good part-time employees at General's Doughnuts and Lil' Gen's.
With reporting by Thomas Brown