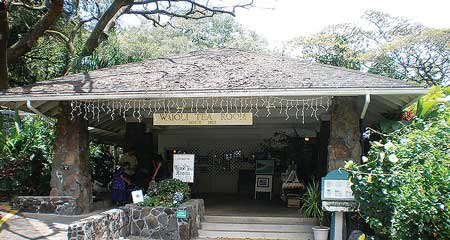 The Salvation Army reclaims management of Wai'oli Tea Room
The restaurant will now run under and support the Honolulu ARC.
 By Vivian Gatica
After leasing the Wai'oli Tea Room for the last 20 years, The Salvation Army will now operate the restaurant through the Adult Rehabilitation Center (ARC)  in Honolulu. The renovated facility reopened Nov. 11.
"The [tea room] will be a community and program-based center to help support men in recovery," said Rafael Escalera, business administrator for the ARC.
Under its new management, profits from the Wai'oli Tea Room will go to the ARC. Its current employees will continue working at the restaurant as Salvation Army employees; they received training during the renovation period.
The Salvation Army will also enhance the tea room's menu so that it appeals to more demographics. It will open earlier for breakfast, and Escalera said the ARC hopes to open the restaurant for three meals a day in the future.
The restaurant—now operating as the Wai'oli Tea Room and Bakery—was built in 1922 and added to the National Register of Historic Places in 1998. Within the property is a replica of the grass guest house that Robert Louis Stevenson occupied in 1889 when he visited Princess Ka'iulani and her father, Archibald Scott Cleghorn, who had married into the royal family of the Kingdom of Hawaii.
According to Major John Chamness, divisional commander for the Hawaiian and Pacific Islands Division, the tea room originally supported and was a classroom for The Salvation Army Girls' Home in Manoa, which provided young women with vocational training.
Chamness recently supported a Pathway of Hope initiative to help ARC beneficiaries through three pillars: housing, jobs and faith-based connections. The Wai'oli Tea Room will become an integral part of the job pillar.
"I think it's a very positive move for the Army to take back ownership [of the tea room]," Chamness said. "It provides us with a great opportunity to provide on-the-job training for people in recovery and gives them the chance to gain new skills."
The Salvation Army will allow beneficiaries to work at the tea room after they graduate from the program, and it will provide opportunity for entrepreneurship.
"We plan to add coffee shops and carts around the island owned by alumni," Escalera said. "The men are excited for the opportunity for jobs that have a future."
Eventually, the Wai'oli Tea Room will function as a center for community programs and events.
"We [want to] provide good services to the community, so that they learn about what The Salvation Army does," Chamness said.
Over 2,000 people participate in Hawaii's Salvation Army substance abuse programs, which include the ARC, Addiction Treatment Service and Family Treatment Services. Chamness said that in the future he hopes to expand the Wai'oli Tea Room's services to include all three programs.