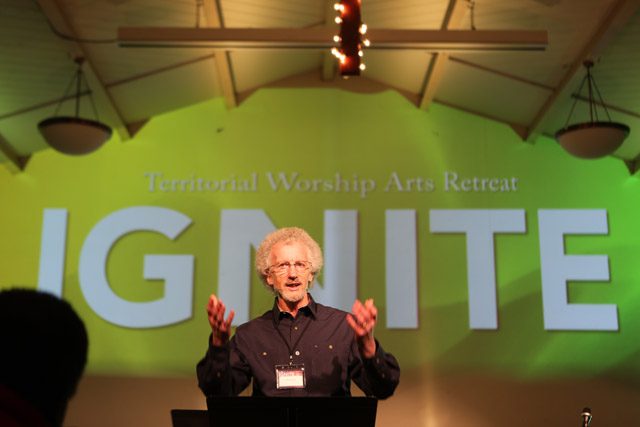 Territorial Worship Arts Retreat 'ignites' creativity
Authors Philip Yancey and Jonathan Malm featured  
Over 150 delegates from across the Western Territory met at Camp Redwood Glen in Scotts Valley, Calif., in February for "IGNITE"—the Territorial Worship Arts Retreat.
Special guests included Colonels Dave and Sharron Hudson, national chief secretary and secretary for women's ministries, respectively; and authors Philip Yancey and Jonathan Malm as general session speakers. The Central Territory's Bill Booth Theater Company performed and the West's Jude St.-Aime led praise and worship.
Malm, author of "Created for More," spoke in the opening session. He emphasized the importance of creative arts in worship and encouraged delegates to realize that they are more creative than they might think.
"We are here to be light bringing out the God colors of the earth," Malm said. "When we approach everything as black and white, we can't bring out the God colors of creation. Christians should be the most creative, because we have the living creator God inside of us."
Yancey is well-known for his books, which include "The Jesus I Never Knew," "What's So Amazing About Grace?" and "Prayer: Does It Make Any Difference?" He spoke in the Saturday sessions about the impact that creative worship can have in and outside of the church, stressing that everyone is important in the body of Christ.
"No matter who you are or what you've done or how you rank in the scale of human value, God can work through you," he said.
During the retreat delegates explored their specific interests in classes on drama, dance, visual arts, audio technology, media and contemporary music in worship.
In the evening, participants could visit the Artist Café at the Monterey Café (the camp store), where they could perform in a casual setting.
Hudson concluded the weekend with a message based on John 21:15-19, when Jesus reinstates Peter as a disciple after Peter's denial of him, saying: "No matter how we may have failed in the past, Jesus says to follow him."