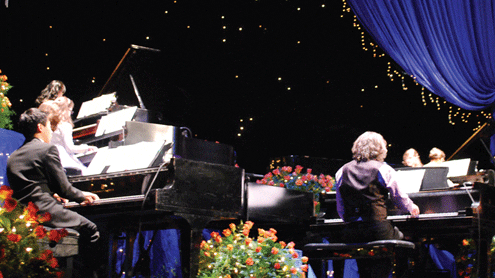 Ten grands
Ten professional pianists perform in Salvation Army benefit show for after-school music programs.
Ten grand pianos, candelabras and baskets of roses adorned the stage at the KeyBank Grand Friday Concert April 6, held at the Arlene Schnitzer Concert Hall, Portland, Ore., to benefit The Salvation Army Gresham Corps' after-school music programs.
The concert evolved from a relationship between Michael Allen Harrison, a well-known local pianist, and the Gresham Corps. After performing a Saturday night show, "Ten Grands," for 10 years, Harrison decided he wanted to do more, so he suggested a Friday night concert prior to the Saturday show—on the same stage—with all proceeds going toward the youth music programs.
"The Salvation Army is extremely fortunate to have Michael Allen Harrison as a friend and grateful for his continued support of our local music programs," Major Don Gilger, Portland Metro coordinator, said. "Every performance of his is top-notch. We are excited to collaborate with The Snowman Foundation for this grand concert as we come together to keep music alive for every child in the Portland Metro area."
The Snowman Foundation benefits youth service groups, helps generate scholarships and music lessons for disadvantaged youth in Oregon and southwest Washington and aids in purchasing pianos for schools and organizations in need.
The evening opened with the 10 professional pianists playing personal renditions of "Twinkle, Twinkle, Little Star," after which 11 17-year-old proteges performed advanced compositions. The Salvation Army Gresham Youth Choir sang several worship songs recognizing Easter and two youth singers performed accompanied by a pianist; one sang a duet with a pianist. The balance of the concert consisted of each professional pianist playing a variety of classical and modern pieces.
The grand finale was a Michael Jackson medley, arranged by one of the professionals and performed by all 10 pianists.