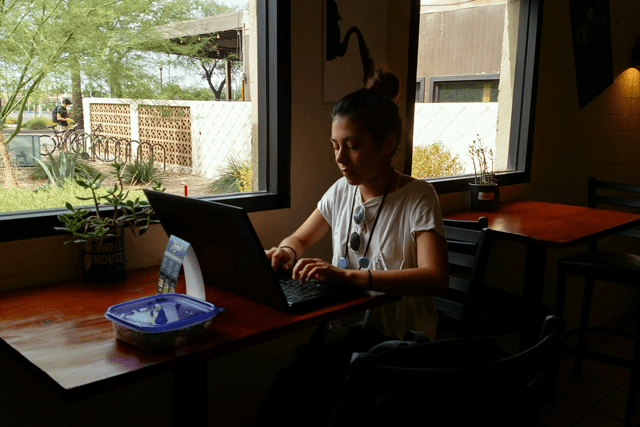 Tempe coffeehouse blends java with campus ministry
Salvation Army offers weekly Bible study and free hot meal to reach college crowd
By K. Richmond Temple –
Few places set a better example of building a positive community connection than Tempe's award-winning 1865 Coffee, attached to The Salvation Army Corps Community Center at the epicenter of the sprawling Arizona State University (ASU).
A fixture on University Avenue since 2014, 1865 Coffee is more than a cozy haven that serves up an affordable selection of espressos, teas and a mean grilled cheese sandwich—with plans afoot for fresh-made smoothies soon to come. And it's a good deal more than a quiet refuge where students can catch up on reading assignments or tap away on their laptops. More importantly, it's a vibrant locus of community service outreach and an active youth ministry. In fact, the place was established to expand The Salvation Army brand—and mission—to a younger audience in a relaxed atmosphere. And what better place to do that than in the heart of Arizona's "Sun Devil" country?
"Psalm 34 Ministries" is but the latest expression of the coffeehouse's inventive activism. The brainchild of Shelby Baker, manager of 1865 Coffee, the ministry entails Sunday night Bible study with the bonus of a free hot meal for those attending. "We want to come together as God's obedient children to serve others, and to give them a taste of the goodness of Christ," Baker said. "As Psalm 34 says: Taste and see that the Lord is good; blessed is the one who takes refuge in him."
She noted that attendees, including the neighborhood's homeless, have a curiosity about God and religious faith in general. "I'm really encouraged by their knowledge, and I learn a lot when they challenge me and challenge themselves," she said.
Baker embodies 1865 Coffee's motto—"Doing the Roast Good"—a riff on The Salvation Army motto "Doing the Most Good." The Lamar, Colorado, native has had ministry stints while an undergrad at the University of Northern Colorado and following that in Vietnam. She is now seeking a master's degree in divinity and global studies at Grand Canyon University in Phoenix. Her ultimate goal is to open a missions-based coffee shop somewhere in Asia where she can continue her faith-based works.
While Baker has been at her post for a little more than a year, her use of social media, leaflets and word of mouth has done much to expand 1865 Coffee's appeal. And with the start of ASU's fall semester entering full swing, she's making plans to expand the circle of mission work to the newest influx of students that will descend on Tempe.
"We reach out to anyone who lives in this community," said Corps Officer Lt. Genesis "Gene" Apuan. "We have 'regulars' at 1865 Coffee—including people with different religious backgrounds. They have told us they feel safe here and they love our coffee. We do not look down on or judge anyone. We live Jesus' love and pride ourselves on welcoming all."
Named for the year The Salvation Army was founded by William and Catherine Booth in Victorian England, 1865 Coffee harkens to The Salvation Army's long tradition of addressing human need in myriad ways through faith in God.