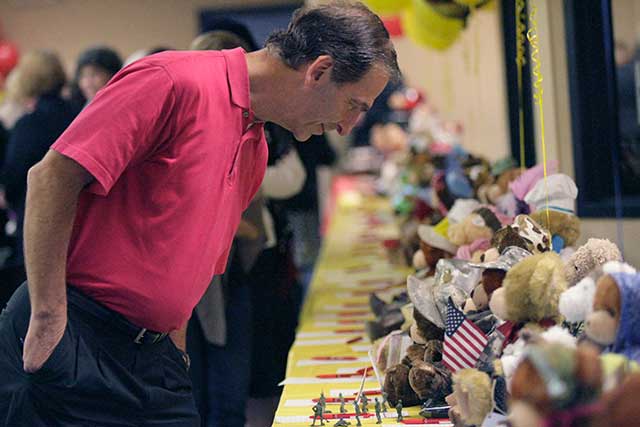 Teddy Bear Tea Party powers fundraising efforts
In total, nearly 60 businesses and individuals donated items for auction.
By Robert DeBerry –
Teddy bears, tea, finger foods and a little prodding by auction emcee Sheila Balistreri helped The Salvation Army Alaska Division raise more than $10,500 at its annual Teddy Bear Tea Party.
Now in its 18th year, the event attracted more than 250 attendees and showcased more than 200 individually dressed bears, many decorated with handmade items and outfits.
According to Major Cindy Dickinson, Divisional Director of Women's Ministries, the tea party was "a magnificent event" to kick off the holiday season.
Planning for the annual event usually starts in January and keeps the Women's Auxiliary staff busy until the final bear is wrapped up and sent home with the winning bidder. The most popular bears are the celebrity look-a-likes.
"People really like the television character teddy bears but the homemade bears with the really intricate outfits are incredible too," Dickinson said.
Of course, teddy bears were not all that were on the auction block.
"We even had our three United States legislators and Anchorage Mayor Ethan Berkowitz donate." Dickinson said. Rep. Don Young donated a copy of the 14th edition of the Congressional Cookbook, Senator Lisa Murkowski donated a lovely gift basket and Senator Dan Sullivan donated a flag that was flown over the U.S. Capitol. "It is really great to see our local and state representatives donate to this wonderful event."
The community's involvement in the event contributed heavily to its success. In total, nearly 60 businesses and individuals—including Alaska Railroad, local furriers, University of Alaska Anchorage and the Anchorage Concert Association—donated items for auction.
All of the proceeds will support The Salvation Army's local programs, including the Clitheroe Center, McKinnell House and Serendipity Adult Day Services. According to Dickinson, they'll even be able to help send children to summer camp with the money raised.