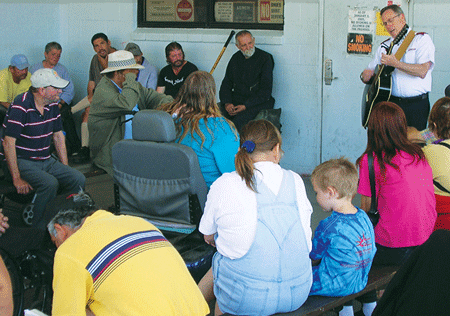 TEAM collaborates in Stanislaus County
Salvation Army units work together. 
 The Salvation Army's eight units in Stanislaus County—who work Together Enhancing All Ministries (TEAM)—recently united for two fundraisers, netting $110,000.
"Here in Modesto, we decided to implement a new way of ministering with the many Salvation Army units that operate in Stanislaus County," said County Coordinator Captain Michael Paugh, who developed the program. "We are charting a new course in working as a team."
TEAM units include the Downtown Citadel, Red Shield Corps, Child Development Center, Berberian Shelter, Transitional Living, Food Bank, Turlock Corps and Turlock Silvercrest. The concept launched in July when the new Red Shield officers, Lieutenants Dustin and Carole Rowe, arrived.
"It was imperative that we looked at a new way in doing business; with the need in our community up 25 percent and our resources down, we had to think outside the box and find a new way [to do] the most good with the limited resources we had," Paugh said. "The advisory board and the community have noticed that the new concept is working very well."
Working cooperatively, The Salvation Army raised funds via a golf tournament and a silent auction.
"In one way or another, we all participated in these fundraisers," Paugh said. "The same is true with our 20th annual Kettle Kick-off where about 1,200 people will come and our goal is to raise $200,000 in seven minutes," he said. "The only way to pull this off is through a team effort with everyone participating in doing the most good for the Salvation Army. We are to be Christ's examples here on earth, and the people in the community are watching us. What better way to witness the love of Christ than to live the example?"
In June, Captain Lisa Smith was appointed team ministry officer, with the objective of enhancing a team atmosphere in all Modesto Salvation Army ministries.
"It is a good way for me get to know what is happening at all the operations of The Salvation Army in Stanislaus County," Smith said. "I especially was happy to have the opportunity to preach at the Turlock Corps and I am looking forward to eventually preaching at Red Shield."
Lieutenant Dustin Rowe, one of the newest TEAM members, said he benefits from working with seasoned officers like Smith and Paugh.
"We all have our own roles in the ministries, but they help us out a lot," he said. "Everything that's new to [my wife and me] they've seen plenty of times. When we're dealing with donors, they see us as a united bunch, how we're one big Army and they're more apt to give to us."