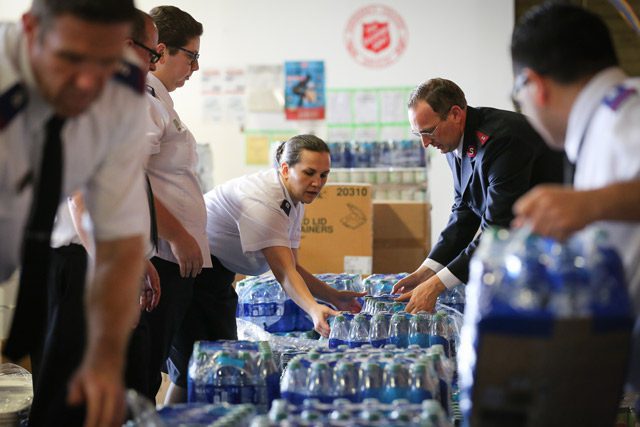 TC's Daily COVID-19 Updates: Day 3
Chief Secretary Colonel Doug Riley held a teleconference meeting March 18 with members of the Territorial Executive Council (TEC), the third of such meetings regarding The Salvation Army's response to COVID-19.
During the meeting, Riley announced a new, daily livestream of prayer time led by Territorial Secretary of Spiritual Life Development and Territorial Secretary for Women's Ministries Colonel Colleen Riley and Continuing Education Officer Major Brian Bearchell. The live streams can be accessed via the New Frontier Chronicle Facebook page around 9:30 a.m. each day. For the prayer time, people can write in with prayer requests via Facebook comment or through an email to prayer.request@usw.salvationarmy.org. 
Territorial Headquarters also made plans to contact retired officers March 18 to assist in remote pastoral care and calling to check on donors. 
While many events and gatherings throughout the territory were canceled or postponed, the decision about whether Commissioning, Encore and Service Corps will continue this year in their traditional forms will be made early next month or when further information is received, Assistant Secretary for Program Martin Hunt said.  
Riley then received updates from the Hawaii, Golden State and Del Oro divisions. 
Hawaiian and Pacific Islands Divisional Commander Major Jeff Martin said the Revolution Hawaii team—based at Camp Homelani—will provide outreach and assist nearby corps during the week. The camp is available to the government as needed and can be used as a quarantine center. On Guam, where resources are scarce, Family Service Center staff are making their own hand sanitizers from aloe vera and alcohol. The Republic of Marshall Islands has no reported cases of COVID-19. "[This] is a blessing as they are considered one of the lowest on the scale of countries who can effectively deal with the virus," Martin said.
In the Golden State Division, counties from San Francisco to Monterey are on a three-week lockdown called "Shelter in Place."
"It really is in between social distancing and social isolation, so only essential services are allowed in the county," Divisional Commander Major Darren Norton said. "I'm happy to report every corps is open and functioning because we provide essential services that are needed."
The San Francisco Kroc Center has canceled gym programs and is switching providing social services, and has been contacted to provide emergency child care. In Merced (California), a shelter that is not Army-run has asked the Army to come in and serve a meal each day. An apartment complex has also reached out to The Salvation Army to provide food to residences.  
"We have lots of different expressions going on right now with all of the corps open for basic needs and looking for unique ways to respond in those communities," Norton said. 
In the Del Oro Division, part of the division is under a similar "shelter in place" directive. Del Oro Divisional Commander Major Ivan Wild said across the division, the Army has increased its volume of distribution 15 times, and is in contact with the  National Guard for manpower for food packing. 
Before ending the teleconference, Riley read 1 Peter 4:10 (Message): Everything in the world is about to be wrapped up, so take nothing for granted. Stay wide-awake in prayer. Most of all, love each other as if your life depended on it. Love makes up for practically anything. Be quick to give a meal to the hungry, a bed to the homeless—cheerfully. Be generous with the different things God gave you, passing them around so all get in on it: if words, let it be God's words; if help, let it be God's hearty help. That way, God's bright presence will be evident in everything through Jesus, and he'll get all the credit as the One mighty in everything—encores to the end of time.
"I pray that as we do God's work to others, he gets the credit," Riley said, before asking those in the room to sing "I'm in his hands" (SB 732) to those calling in from the frontlines. Colleen Riley closed the meeting in prayer.
HOW TO HELP:
If you'd like to make a monetary donation, please click here to make a gift.
Text 'GIVE' to 52000 to make a $10 donation to The Salvation Army. This will automatically add a one-time donation to your next mobile phone bill.
For information about volunteering, please visit volunteer.usawest.org.
To learn more about how to support The Salvation Army's relief efforts, please click here.