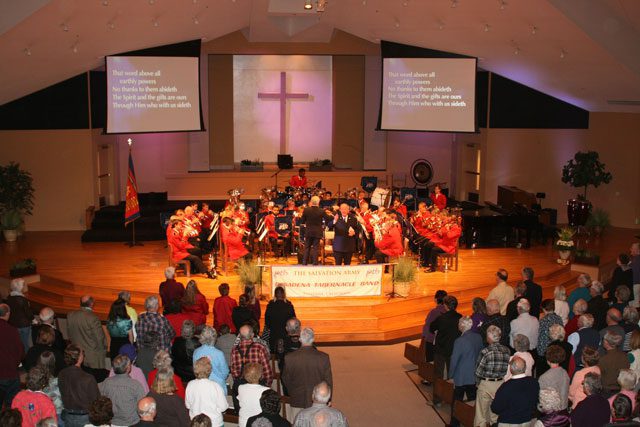 Pasadena TAB Band encourages ministry in San Luis Obispo
By Don McDougald, Lt. Colonel –
The Pasadena Tabernacle Band made another visit to San Luis Obispo County in Central California to encourage and support The Salvation Army's ministry in the coastal communities.
The band ministered at the Arroyo Grande Grace Bible Church and raised funds to support the Army's ongoing service extension program.
Bandmaster William Flinn planned a varied program of gospel songs and marches that the congregation would recognize, including Southern California Divisional Bandmaster Kevin Larsson's arrangement of "They Shall Come From the East" set in an African style. Martin Hunt presented a sensitive cornet solo of George Beverly Shea's "I'd rather have Jesus." Lambert Bittinger soloed in "Annie Laurie" to which we sing the words, "The Christ of Calvary, The dearest name to me is the matchless name of Jesus, The Christ of Calvary."
The program concluded with the challenging piece "Seize the Day" by Peter Graham.
Larry Lycan, a Los Angeles County probation officer, and Barbara Anderson, who is responsible for a major medical team at the UCLA Medical Center, shared how their vocational life often provides opportunities to encourage others facing difficult times.
The band then joined in Sunday worship at the San Luis Obispo Corps, and Major Darren Norton gave the message.
Personal testimonies by members of the band reminded the congregation how hearts have been changed and lives enriched through a personal knowledge of the Lord.
The primary purpose of the band continues—to share the gospel, glorify God and bring people into a closer relationship with the Lord Jesus Christ.