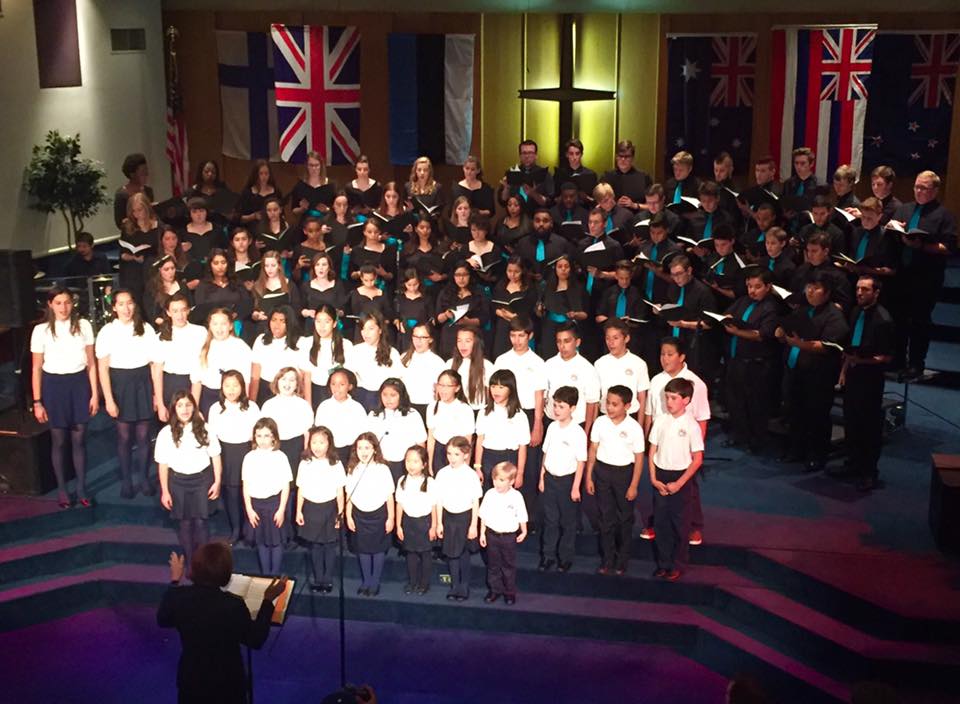 Tab Youth Chorus turns 15
Concert celebrates music making
By Sharon Docter –
The Pasadena Tabernacle Youth Chorus celebrated its 15th anniversary recently in a concert that brought together alumni and current youth chorus members for an evening of gospel music making.  
The 65-member group directed by Barbara Allen used the occasion to bring back some of the group's signature pieces, including "Just the Beginning" and "In the Sanctuary," in an evening of youthful exuberance and fun.   
Western Territorial Leaders Commissioners James and Carolyn Knaggs were the special guests for the evening, along with Commissioner Dick Krommenhoek, territorial commander for Norway, Iceland and the Faeroes. Former corps officers Major Ronald Toy, Majors Edward and Joyce Loomis and Lt. Col. Edward Hill were on hand to recall the group's impact over the past 15 years.
The trio of Thandiwe Gregory, Shalini Henry-John and Hannah Danielson thrilled the audience with their rendition of the gospel favorite "He Made the Difference." Commissioner Carolyn Knaggs, territorial president of women's ministries, was asked to join the trio, who presented her with bright pink feather boa. Knaggs rose to the occasion and in good humor danced and sang along.
Krommenhoek brought a devotion that both recalled the group's past tour of Finland and Estonia and encouraged its members to continue in ministry.
The Youth Chorus was joined by the Tabernacle Children's Chorus (TCC), a community chorus also established by Allen, that is featured every year performing on Christmas Eve at the Dorothy Chandler Pavilion in Los Angeles and on PBS.   
Allen, a fifth generation Salvationist, leads the Western Territory Staff Songsters. She recently resigned as the leader of the Youth Chorus and the TCC.  
The Youth Chorus has toured Hawaii, New Zealand, Australia, Finland, England and Estonia, and has released two albums. In 2015, it was a guest vocal group at The Salvation Army 150th anniversary congress in London. In 2016, members of the group were featured in the Rose Parade on the "America the Beautiful" float.    
The finale for the evening featured soloist Shalini Henry-John—also named the new leader of the Youth Chorus—in a gospel rendition of the Founder's Song "O Boundless Salvation," arranged by James Allen. The arrangement brings a contemporary feel to a traditional favorite, which is what the group does best—combining the traditional and the contemporary to find new ways to communicate the love of Christ.