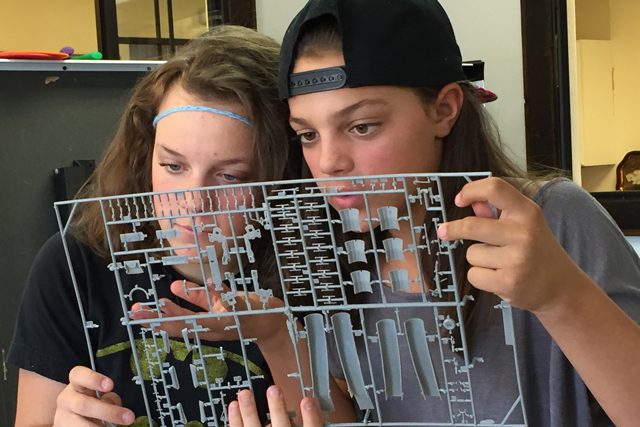 Summer STEM focus in Tehachapi
Program emphasizes learning and hands-on experience for students  
By Julianna Crisalli –
Outside a room that houses canned food donations for families in need, more than a dozen students from local middle and high schools just built airplanes.
The Salvation Army in Tehachapi, Calif., is in the second year of its summer STEM (science, technology, engineering and math) program for students. Many of the kids participate in an after-school program during the year sponsored by The Salvation Army, but the summer session offers a wider range of learning and themed activities.
"The Salvation Army is all about protecting children and giving them a safe place to come to," said Michal Knowles, center coordinator for the Tehachapi Service Extension. "At the center, we are all about walking along [with] these kids and giving examples of healthy, accepting relationships. We teach them how to respect themselves and each other and the adults in their life."
This particular week, students learned all about airplanes—how they are made, how they are used and how they fly. The model planes, with their intricate and tiny parts, were more difficult than some expected.
"I'm very confused. That's a lot of pieces," Echo, 11, said after realizing she removed the plastic plane parts prematurely, separating them from the numbered instructions.
Knowles used extreme care in removing the pieces from their plastic encasements.
"Don't glue your fingers together," she said to a group of boys.
"Allow two hours to dry. What!?" said a young voice, both frustrated and excited.
The day before, these same students watched a video and learned about various types of aircraft. Every week during the summer session, The Salvation Army offers two days of STEM-focused activities. The first is more educational and visual, while day two allows the students hands-on activities that match the topic of the week.
The week prior to plane assembly, the students focused on science and took a field trip to the LA Science Museum.
In its inaugural year, 2015, the summer STEM program was funded through a grant, but it did not extend to this year. This summer, organizers set up a Go Fund Me page to help with the cost of supplies and activities.
"I love summers with the kids because we literally get them all day. It's so much fun to develop relationships with these kids and actually get to know them and who they really are and what their families are like," she said. "After a few weeks of coming, they seem to feel pretty comfortable there and have a sense of ownership of it all."
About an hour into the plane project, the students seemed to be getting the hang of it. Working in pairs or groups, they started to see familiar shapes take form.  
They were focused and motivated to finish.
"I'm the kinda person that can play with Legos for hours," said Elijah, 14, while holding two tiny pieces of plastic together as they dried, "but I don't have patience."