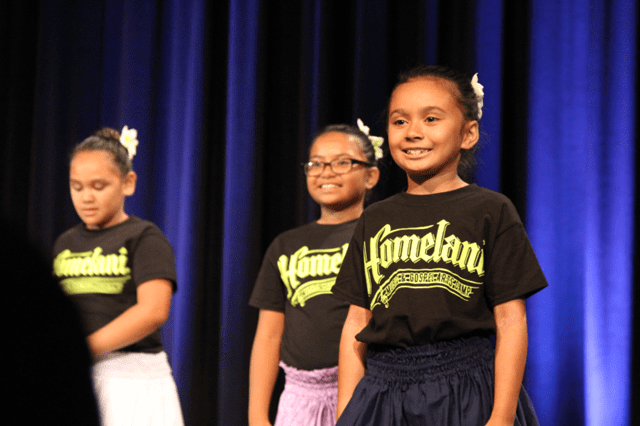 Summer music campers showcase skills at the Hawaii Kroc Center
By Brandi Salas –
More than 80 young people recently attended summer music camp at The Salvation Army Camp Homelani in Waialua, Hawaii. The final day of camp traditionally ends with a concert for the campers' parents and friends, giving the kids a chance to showcase what they learned during the week.
At the concert—held at the Kroc Center in Ewa Beach—each performance was formally introduced by a music camper, a task to help them build public speaking skills they will need in the future.
The goal of music camp is to help keiki discover or develop their musical talents. Each child willingly practices guitar, percussion, brass, piano, singing, hula, acting or visual arts for hours each day.
"I'm overwhelmed by their dedication and ability to express themselves through music," said Divisional Music Director Crystal Nakamaejo, who spearheads music camp each year at The Salvation Army Camp Homelani campus on the North Shore.
Many of the children discover creative outlets and are mentored by a staff of professional musicians.
"The Salvation Army is blessed to invite local musicians and artists to mentor and teach our music campers," Nakamaejo said. "They donate a week of their time to share their talents with local youth."
Brass and music theory instructor, Susan Pierce, taught music campers how to read and write music.
"There was one child who was already writing his own music," Pierce said. "He was so advanced. We taught children and teens at different skill levels and it was rewarding to see their progress in a week. Music Camp is a way for The Salvation Army to provide healthy arts that children may be missing in school or communities. The great thing about this camp is not only the arts, but the spiritual component. These children are given the space to grow in creativity and moral values…they really thrive on that."
Noelle, a 14-year-old music camper, worked especially hard this summer.
"This is my second time at The Salvation Army music camp, she said. "I worked harder to improve to show my family how important music means to me. I'm glad they came to our music camp concert and saw my performance."