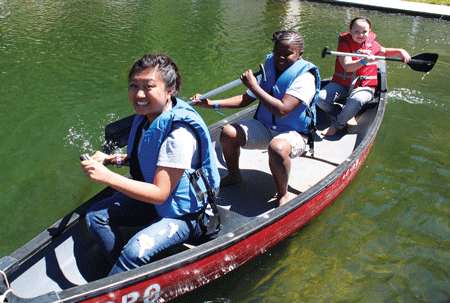 Suisun City Kroc Center Corps sends kids to camp
114 children enjoy the camp experience.
By Sydney Fong
The Salvation Army Ray and Joan Kroc Corps Community Center in Suisun City, Calif.—open only since late May—sent 114 children from Solano County to Camp Del Oro in Nevada City, Calif., for nearly a week of fun and educational activities.
"We are thrilled to provide such a wonderful opportunity to so many children," said Captain Vickie Harvey, corps officer of the Suisun City Kroc Center Corps with her husband, Jonathan.
"The reality is that camp gives kids an opportunity to get out of their normal, everyday lifestyle," said Jonathan Harvey. "For some, home is a great environment; for others, it's not. For them to step out of their daily circumstances and to experience the tranquility of camp and God's love is a unique opportunity."
Advisory board member John Hodson worked to raise funds to provide the majority of the campers with scholarships. Hodson challenged his friends, business associates and other advisory board members to assist him in sending 100 children to camp, and he personally contributed a large portion of the cost.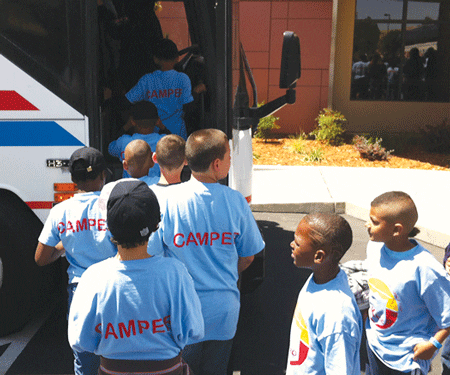 "I remember my camp experience when I was a youth," Hodson said. "I really wanted to see other children from Solano County have the same fun and memories that I had."
The scholarship helped many Solano County parents, including a mother who recently lost her job.
"The mom came up to me the Sunday before camp started and asked if there were any spots available," said Vickie Harvey. "I said we had some cancellations so there was room for her daughter, Miranda."
"It's terrific!" shouted Miranda, when asked how she was enjoying camp.
Kroc Center youth staff also enjoyed the camp experience, some for the first time. Six members of the Kroc Center team joined the Harveys for the week, assisting with electives and participating in daily chapel.
Jonathan Harvey said the goal was "to connect with the youth at camp so when they return to Solano County we have a greater opportunity to link them into corps programming and our weekly worship services."