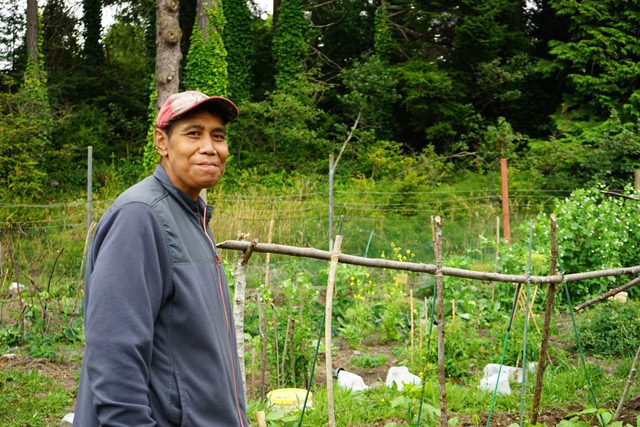 'Stronger in God's Service'
Couple serves Coos Bay Corps
By Hillary Jackson – 
In 1999, Coos Bay Corps Social Services Manager Misti Veikune was serving in Tonga on an assignment from The Salvation Army School for Youth Leadership in Australia when she met Ma 'Afu Veikune, who was the Army's regional youth worker there.
"We actually went and taught English to the different corps that were out in the villages," Misti Veikune said. "We basically got to know each other very well while we did that." 
The pair fell in love, but Misti Veikune had to go back to finish school. "We had gotten engaged because God spoke to both of us and we knew," she said.
A year later, after she'd worked out her visa, they married. Since then, the Veikunes have served others through The Salvation Army abroad and in the Cascade Division. 
"God has put us together for a purpose, and we just serve in whatever community, whatever corps God sends us to," Veikune said.  
After the Veikunes married, Misti Veikune moved back to Tonga to live and work, and the pair became lieutenants in The Salvation Army. In 2005, a week after her visa expired, Ma 'Afu Veikune was accepted for a green card to come to the U.S.
"All because of God's timing I guess, so it all worked out," Veikune said.  
The Veikunes moved back to the Cascade Division, where Misti Veikune is originally from, and have worked for a number of corps throughout the division. Currently at the Coos Bay (Oregon) Corps, both give back in their own ways.
"It's another case of opposites attracting to achieve a wonderful balance in Christ," said Coos Bay Corps Envoy Dennis Stumpf. "Both Ma 'Afu and Misti have long histories with The Salvation Army, both stateside and abroad.  They have weathered personal and job-related difficulties only to become stronger in God's service. They are very dedicated and their integrity is without question." 
In her role, Misti Veikune is in charge of the food shelf and social services department. She also reports corps statistics, leads the corps' troops programs and is part of the corps music ministry. According to Stumpf, she's also "a bright smile and a bit of cheer to everyone visiting The Salvation Army."
Ma 'Afu Veikune leads the corps music ministries and teaches martial arts, piano, guitar and percussion in the after-school program. He occasionally preaches and leads Bible studies, and volunteers to help with the corps' janitorial and landscape maintenance tasks.
He wanted to help those who struggle to find affordable fresh fruit and vegetables in Coos Bay—especially seniors on fixed incomes. He dreamt of a community garden in 2012, drawing from his Tongan roots where sons get a plot of land to farm for their family to keep them fed.
Several years later, with the Stumpfs' arrival, Ma 'Afu Veikune invested his own time, money and resources to bring the garden to fruition.
"The vision is for the corps garden to be a garden that will help those in the immediate community that need it," Misti Veikune said. "Ma`afu has put a lot of prayer and heart into this project. We have no doubts that God is going to bless it tenfold."
To create the garden, Ma`afu Veikune reused items like milk cartons, juice jugs, buckets, water bottles and cooking trays for planting. Misti Veikune calls his crafty way in the garden, his "island style"—which also includes how he creates his own fertilizer—Ma`afu's Brew—using spent coffee grounds rather than purchasing fertilizer.
When it was time to harvest the garden's first crop—radishes—people from the Coos Bay Corps flocked to the garden to pick their share of vegetables after church one Sunday.
"Their faces lit up at the sight of the garden," Ma 'Afu Veikune said, adding that as people gathered radishes in bags to take home, "they would eat as they go."
The garden, which Ma 'Afu Veikune refers to as the garden of blessings, now allows the corps to offer a food pantry twice a month, and the number of people The Salvation Army can serve has almost doubled.  
In December 2018, Ma 'Afu Veikune underwent a kidney transplant after nearly four years of kidney dialysis three days a week.
"He is still on the road to recovery," Misti Veikune said. "But hasn't let it slow him down from doing God's work here in Coos Bay."