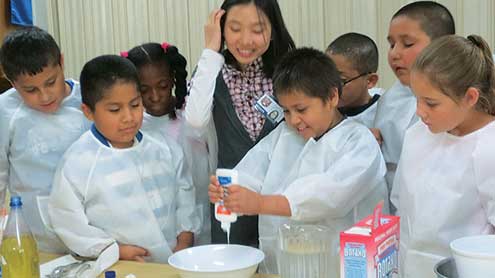 Stockton Salvation Army Kids College
A summer day camp with well-rounded activities
Stockton Corps Officers Captains Cristian and Rebeca Sibaja created a Salvation Army Kids College to provide educational activities during the summer for children in Stockton, Calif.
"We work with a lot of  children who have fallen behind in the public school system because they do not possess the skill sets or follow the academic pace of their peers," Rebeca Sibaja said. "As a former educator, I have always seen a need to start motivating children at a young age so that they can dream big, and create their own visions for their futures. "
More than 50 children attended the day camp for Bible studies, science labs, scrapbooking, cooking, art, music appreciation, hygiene and first aid lessons, sports, literary comprehension, and language classes in Spanish, Vietnamese and Tagalog.
"I am certain that 90 percent of the parents in our community would not be able to afford art or dance classes for their child, let alone the expenses that come from enrolling them in a sports team," Sibaja said. "We wanted to give these children the opportunity to explore different things that they might not have had economic access to before."
Twenty-five volunteers from Delta College, University of the Pacific, University of Reno, and local high schools assisted in creating lessons for the children.
"The program could not be going better," said Jimmy Vang, a volunteer from University of the Pacific. "It is very impressive to see how the Bible lessons are incorporated into the other activities to help the children in the long run."
The corps officers hope to implement the program on a year-round basis, but are waiting for funds and grants that will allow it.
"We do not have the words to express our gratitude to God for the success of our program this summer," Cristian Sibaja said. "We are now just waiting for the Lord to provide us with the funds to continue it, and we know nothing is impossible for him."