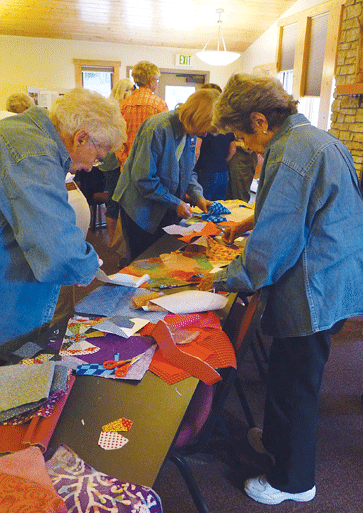 Still going strong after 25 years
Metro Denver Women's Auxiliary celebrates 25 years of auxiliary camp.
By Joy Church, Colonel
Members of Colorado's Metro Denver Women's Auxiliary gathered for the 25th anniversary of auxiliary camp at Intermountain Division's High Peak Camp. "Patchwork of Memories—Stitched in Silver" was this year's theme.
The first auxiliary camp in 1987 began due to the auxiliary's desire that the underprivileged children of Denver experience nature and magnificence of the Rocky Mountain area. The children had such a good time that the members asked if they could have a similar experience. Since then, the auxiliary camp has continued annually for the past quarter of a century.
At the first session the group of 25 women welcomed new auxiliary representative, Lt. Colonel Helen Starrett, divisional director of women's ministries, and special guest Lt. Colonel Judy Smith, territorial secretary for program. Camp administrators presented updates on various projects, including the climbing wall, which is now complete. This project was one of many sponsored by the auxiliary over the years.
Traditionally, auxiliary members take part in many of the activities that the children experience, including crafts, the annual camp photo and the flag raising ceremony. Devotional times and small group meetings gave campers the opportunity to share their testimonies.
An outing to the nearby Aspen Lodge included a chuck wagon dinner and western entertainment.
Relating to the theme of this year's camp, Smith's presentations included "Fabrics of Faith," Patterns of Hope," and "Finished Needlework of Love." Memories played an important part of the programming. Colonel George Church, who was instrumental in purchasing the Double JK Ranch for the Intermountain Division, provided an historical overview.
At an afternoon tea, camper Joan Maclachlan presented her program, "If teacups could talk." Maclachlan also shared her collection of memorabilia.
"Memories Stitched in Silver" was the final program presented by Colonel Joy Church and auxiliary camper Virginia "Gini" Schneider. The room was set up in a circle with a large basket in the center containing 25 strands of silver cord. Each year was identified with a memory item and a silver mounted card that gave the year, theme of the camp and a significant thought. Each camper stood, read the quote, and placed the item into the basket. The first piece was a circle of wood with branded initials representing the first craft. Schneider, who attended all 25 camps, placed the final piece in the basket.
A celebration luncheon, hosted by divisional leaders, Lt. Colonels Dan and Helen Starrett, and supported by members of the divisional staff, concluded the camp.