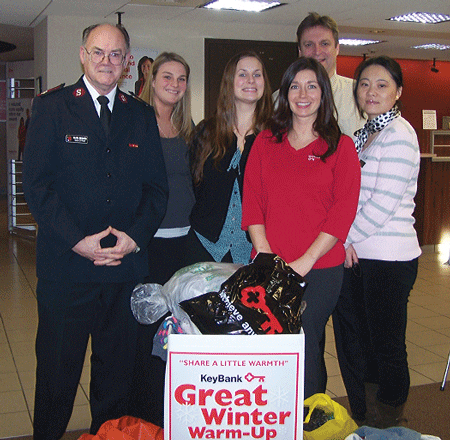 Staying warm in the Northwest
The Salvation Army, a local TV station and a banking chain join forces to provide winter clothing to the needy.
The Salvation Army Northwest Divisional Headquarters in Seattle, Wash., joined forces with KeyBank and TV station King 5 for "The Great Winter Warm Up" drive, a program designed to help the needy and homeless withstand the cold, harsh winter in western Washington. The program began before Christmas 2011 and continued into the new year.
To jumpstart the project, KeyBank contributed $10,000 toward the purchase of new hats, gloves, scarves and socks. Clothing collection bins went up in all 150 KeyBank locations and bank customers donated $1,625.
"The Salvation Army is such an important mission. They're all about taking care of people in great need, so our clothing drive fits very well with them," said Steve Maxwell, president of KeyBank's Puget Sound District.
To date, 5,444 items have been collected for the campaign. As the venture nears its end, its timeliness is evident: western Washington has recently had record-breaking cold temperatures.