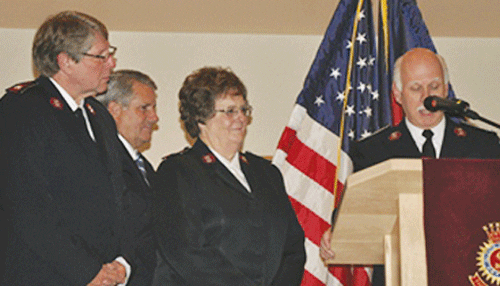 Starretts installed in Intermountain Division
New divisional leaders welcomed during Family Camp
Lt. Colonels Dan and Helen Starrett received their official welcome to The Salvation Army's Intermountain Division Sept. 2, when they were installed as divisional commander and divisional director of women's ministries, respectively.
The welcome and installation took place at The Salvation Army's High Peak Camp in Estes Park, Colo.
Colonels Dave and Sharron Hudson, Western territorial chief secretary and secretary for women's ministries, respectively, performed the installation service. Salvation Army officers from Montana, Colorado, Wyoming, and Utah gathered to welcome the Starretts.
"We are privileged to be part of the ministry of Christ here in the Intermountain Division," said Dan Starrett. "We sincerely seek guidance from the Holy Spirit and inspiration from Christ to be our true leader and vision as we work together to serve the people here."
The Starretts were commissioned as Salvation Army officers in June 1973. They have held various positions in the organization, including directors of The Salvation Army World Services Organization (SAWSO), where they led international development and special projects. In that position, they helped The Salvation Army reach out to over 62 countries.
The installation was one of the meetings at this year's Family Camp, which brought togehter 230 men, women, and children—roughly 90 families. Campers participated in a variety of activities ranging from hiking and fishing to enjoying a family picnic.