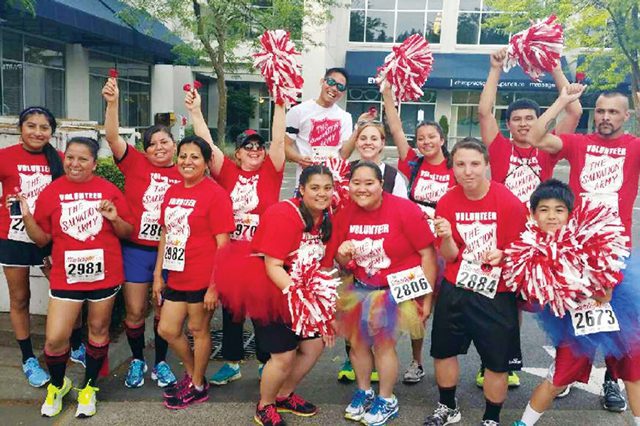 Runners represent Salvation Army at Starlight 5K
Portland's annual event brings 250,000 people to downtown streets.
By Teresa Steinmetz –
Sixteen runners represented The Salvation Army in the 5K Starlight Run, which kicked off the annual Starlight Parade in downtown Portland, Ore.
"People on the streets recognized the bells when I rang them," said runner Nick Steinmetz, one of 16 runners to wear red or white shirts with the Army shield and carry red bells and white pom-poms. "They knew it was The Salvation Army."
Army participants comprised various skill levels and ages. The first Army runner crossed the finish line around the 23-minute mark, finishing toward the front of the pack. For some of the Army runners, it was their first time crossing a 5K finish line.
"I have never done anything like a 5K but thought it would be fun, and it was…the feeling of accomplishment was well worth the effort," said Lt. Jennie Onitsuka-Adams, assistant corps officer, Portland Tabernacle. "Doing this with the teens from our corps was a time of bonding that we will remember."
Since participants can wear costumes, The Starlight Run embodies the character of Portland. This year's notable outfits included several PDX Carpet costumes (the well-known Portland Airport carpet), a Magic School Bus filled with various characters, the St. John's Bridge, a reenactment of WWII soldiers raising the American flag in Iwo Jima, and full body costumes such as the Minions and Olaf.
The approximately 7,000-person race began at dusk and heralded the parade—a tradition since the early 1900s. The Starlight Parade through downtown Portland is a popular event during the city's annual Rose Festival. More than 250,000 people came out for the event, which was also broadcast live on local TV.