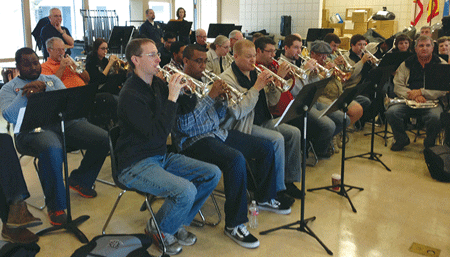 Staff Band meets in Long Beach
The 32 musicians of the Western Territory Staff Band recently traveled to Long Beach, Calif., to practice together and share in musical ministry.
Ronald Waiksnoris, bandmaster of the New York Staff Band—The Salvation Army's oldest staff band—was the special guest.
"It was fitting for Ron to come and share musically and spiritually with the members of the Army's youngest staff band," said Bandmaster Neil Smith, territorial music secretary and leader of the band in the West.
Waiksnoris reminded the band that it is a privilege to be a Salvationist musician. "Much is expected of you as you share music and ministry around the territory," he said. Waiksnoris led an open rehearsal, including roughly 40 local musicians.
Commissioners James and Carolyn Knaggs, territorial leaders, joined the band for dinner and affirmed their support of the band's ministry.
On Sunday morning, the band participated in the meeting at the Long Beach Adult Rehabilitation Center, before concluding the weekend by leading worship at the Long Beach Citadel Corps. Its selection, "Dedication," by Colonel Brindley Boon and Kenneth Downie, included the words:
I dedicate myself to Thee, O Master
who has chosen me;
My every selfish aim denying, I give
my all, on Thee relying:
Take Thou my life and use me at
Thy will.
In deep submission I dedicate myself
to Thee.